Now that the Super Bowl is in the books, the next big-ticket item on the U.S. sports calendar is March Madness. If you haven't been following since everyone opened play in early November, we have you covered.
Below, The Playbook will answer some of the burning questions as college hoops comes to its annual exciting apex.  
What will happen to the blue-blood programs? 
The usual suspects at the top of the sport haven't had it this season. Whether ongoing upheaval in the college sports industry is creating a level playing field or this year is simply an outlier, a key question for this season is what has happened to the likes of Duke, Kentucky and North Carolina this year.  
Duke and UNC, of course, met in an all-time epic Final Four last year. UNC (16-10, NET rank 45) returned stalwart Armando Bacot and a solid cast of experienced players and were ranked #1 in the preseason. A slow start and a bumpy winter have the Tar Heels grasping on to the tournament bubble. The Playbook expects the Heels to be in the bracket, and once in, they'll always be dangerous. But without any marquee wins they'll have to dig deep, maybe even from the First Four in Dayton.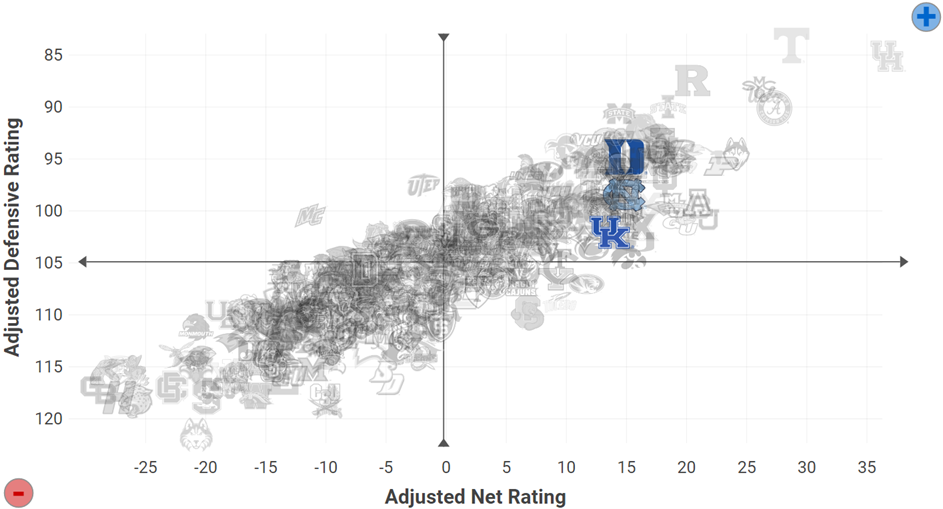 Duke (18-8, 33 NET), with a new coach for the first time since 1980 and its usual group of star freshmen, has been uneven. The Blue Devils are 13-0 at home and 2-6 on the road and have four losses by 11 or more points. But they still have pro talent and will be a scary matchup for a top seed in March. 
Kentucky (16-9, 44 NET) returned National Player of the Year Oscar Tshiebwe but has, like Duke, had an uneven season. UK played its usual strong schedule but only owns one of the coveted Quad 1 wins and is 7-8 vs. the top half of the country. Kentucky is squarely on the bubble and has work to do to feel safe on Selection Sunday. As you can see in the image below, these three legendary programs are still in the top quadrant overall, but not as much as usual. 
Who is trending toward the top line of the bracket? 
Purdue, Alabama and Houston have played musical chairs all season at the top of the rankings. Those three, barring late-season meltdown, should be #1 seeds in March Madness. From there, a couple of teams are battling for that fourth top spot. 
In the Big 12, Baylor (20-6, 10 NET) and Kansas (21-5, 7 NET) are battling for position at the top of the conference and also for a potential #1 seed. Baylor beat Kansas a month ago but has to come to Lawrence this Saturday in what will be a key point to the entire college hoops season. If Kansas can go 4-1 over this final stretch, the Jayhawks may have enough to be a #1.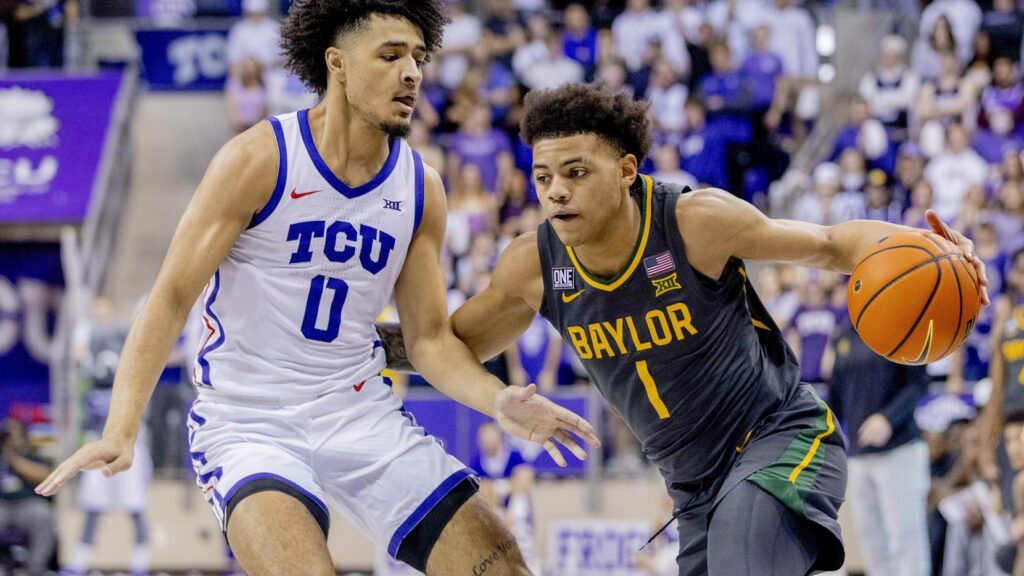 Another race to watch for top seeding is in the Pac-12, where UCLA (21-4, 5 NET) and Arizona (22-4, 11 NET) are among the nation's best. UCLA is ahead in the standings and in most advanced metrics, but Arizona has a head-to-head win.
The two teams will meet in Westwood on March 4 in the regular season finale. The winner of that and a potential meeting in the conference tournament may have a lot to say in which team gets the upper hand in the bracket. 
Will March be the Big 22 invitational? 
March Madness is a 68-team extravaganza, but two conferences are projected to have a stronghold on its real estate. The Big Ten and Big Twelve are extremely deep and those two leagues may have 16-18 teams in the tournament.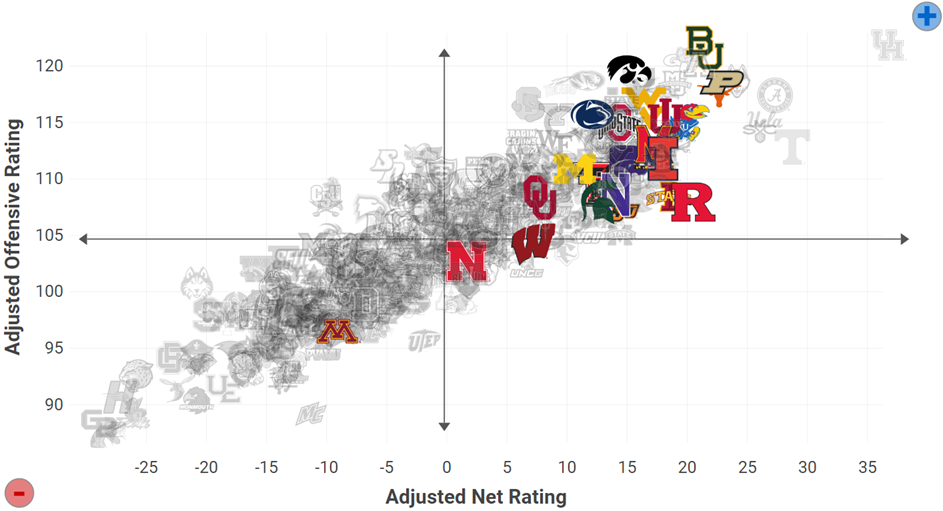 In the Big Ten, Purdue and Indiana are locks and Illinois and Iowa are likely safe. Surprise teams Rutgers and Northwestern – both teams have beaten Purdue – are projected to get in as well. Michigan State (16-9, 34 NET) and Maryland (17-8, 29 NET) seem like solid bets to get in. Two bubble teams to watch are Michigan and Wisconsin. Wisconsin (15-10, 77 NET) is especially interesting, with poor advanced metrics but five Quad 1 wins. Only 20 teams in the country can match that mark against the nation's best opponents. 
At the start of 2023, there was talk that the Big 12 could land its whole membership in the tournament. The league is that good top to bottom. The Big 12 houses eight of the top 32 in the NCAA's NET rankings and even last-place Oklahoma is ranked 65th. The league will certainly get seven teams in, likely eight. And that's before the conference tournament, where anything can happen.     
Who are some potential bracket-busters? 
Now is the time to take note of the strong mid-majors who may bust brackets in March.
Charleston (24-3, 54 NET) and Florida Atlantic (22-2, 19 NET) have been ranked nationally all year and may not surprise anyone, but those two are certainly worth getting to know.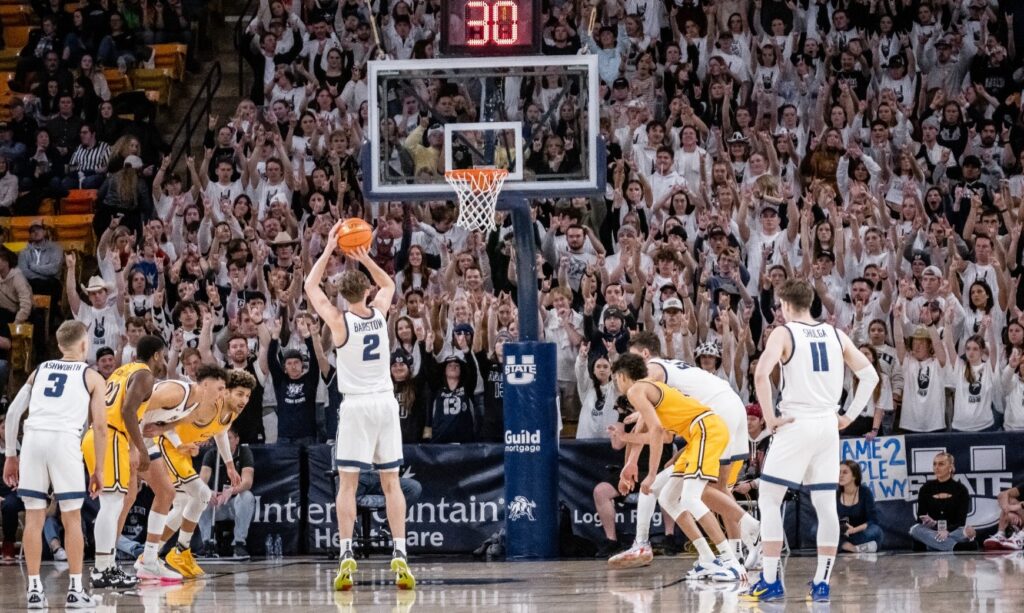 Elsewhere, Utah State (19-7, 36 NET) has built another solid season in a very strong Mountain West Conference. The MWC has five teams in the top 55 of the NET. Oral Roberts, a darling during the 2021 tournament, is also dangerous. ORU (19-4, 37 NET) has won 21 of its last 22 games and has a four-game lead in the Summit League standings. That's a dominant year. Other teams to watch should they win their conference tournaments include Kent State, North Texas and Liberty.
The Playbook is powered by Genius Sports, official data collection partner of the NCAA, via NCAA LiveStats. We've got you covered across everything March Madness.