The transition from February to March is a time that many people look forward to throughout the winter months. We begin to see fresh buds emerge on the trees, flowers start to pop up, and the sun shines brighter. For hoop-heads, though, this time of year means something a bit more. The college basketball season is at the beginning of the end, with just one week remaining in the regular season before the start of conference tournament play. So, what better time than now to have the single craziest day of games in the modern era.
Saturday, February 26, 2022 saw the top 1-7 and number 9 teams in the country in action. By the end of the night, there was an extra tally in the loss column for all but one of them. Number 7 Duke was the only team in the top 10 to play on Saturday and win. So, let's get into it.
*Rankings accurate at the time of the games taking place.
#9 Texas Tech gets trapped by TCU 69-66
TCU has been a pleasant surprise this season, and has already given other solid programs some trouble earlier in the year when they beat then-top 25 Iowa St and LSU just two games apart. Toppling number 9 at home has been the biggest by far, though. Mike Miles for TCU had a game-high 26, but the balance of the scoring was pretty similar for both teams, with three players each in double figures and not much to speak of otherwise. The difference in the game for TCU was made on the defensive end, which, not-so-coincidentally, is often where Texas Tech takes over games. TCU forced their in-state rival into 20 turnovers, 6.2 more than TTU averages on the season.
A career-high five steals against Texas Tech helped Mike Miles earn the BTF belt. #GoFrogs pic.twitter.com/EYkdt9nN0s

— TCU Basketball (@TCUBasketball) February 27, 2022
#6 Kentucky drops a close one at #18 Arkansas 75-73
Though this game was actually not an upset in the minds of the odds makers (Arkansas 2.5-point favorite at tip-off), it is noteworthy nonetheless, as another top 10 team went down. Arkansas came into this game smoldering hot, having won 12 of its previous 13, beating 3 ranked teams in the process and only losing by one point on the road against an Alabama team that has bounced in and out of the top 25 all season. Kentucky was also hampered by injuries, particularly to star freshman guard TyTy Washington. Washington did play but was clearly less than 100% and only managed 10 points on 3-12 from the field. Despite all of that, Kentucky actually fought back from an early 13 point deficit, before running into the buzzsaw that was Arkansas guard J.D. Notae. Notae finished the game with 30 points while shooting 50% from the floor. Arkansas star big man Jaylin Williams also stepped up with big buckets down the stretch to hold off Kentucky at home.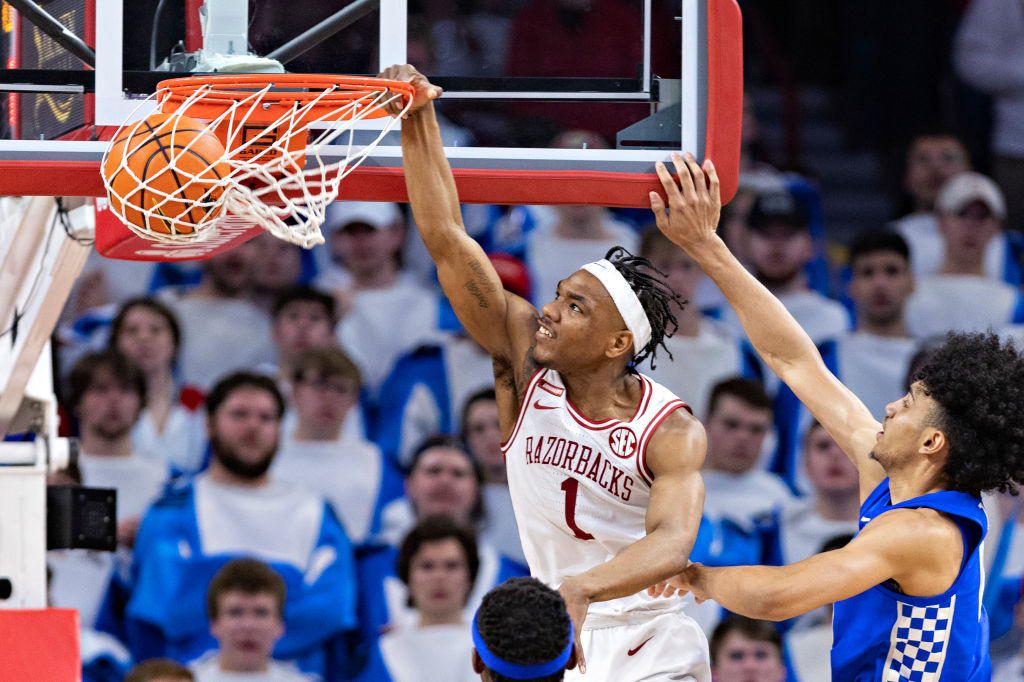 #5 Kansas goes down against #10 Baylor 80-70
Baylor has noticeably struggled, particularly on the defensive end, since losing Jonathan Tchamwa Tchatchoua to a torn ACL a couple of weeks ago. Early in this game, it seemed that Kansas, averaging just shy of 80 ppg, was going to expose that weakness left and right. Kansas jumped out to a 12-2 lead right away, and grew the margin to 13 points at the largest with 5 minutes left in the first half. Then, Baylor outscored Kansas 65-42 during the rest of the game. This loss for Kansas, like Kentucky's against Arkansas, is not one to hang their heads over, but there is another chink in the armor of the perennial championship contender.
Final from Waco pic.twitter.com/s0pm2Ebzoj

— Kansas Men's Basketball (@KUHoops) February 27, 2022
#4 Purdue trips at Michigan State 68-65
Unlike the previous two games, this one is a tough loss for Purdue. Hall of Fame head coach Tom Izzo always makes Michigan State a tough team to play, especially at home, but with the way they were trending before Purdue came to town, having lost 5 of their previous 6, this was a bad look for Purdue. The Boilermakers are a top five 3pt shooting team in the country, at just over 40% on the season. They went just 1-9, and actually still had a higher shooting percentage than MSU. Purdue also lost the often-decisive turnover battle 17-10. Monster big man Zach Edey showed out for the Boilermakers with 25 points, but the balanced scoring of Michigan State, along with the mounting Purdue mistakes, was too much to overcome.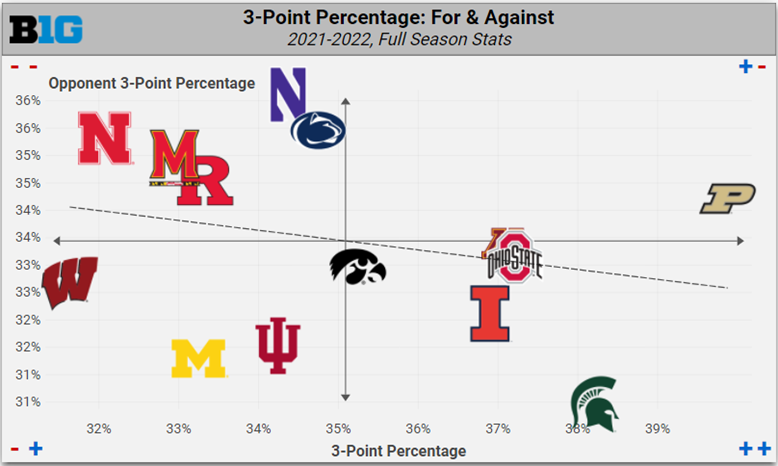 #3 Auburn taken down by #17 Tennessee 67-62
Tennessee has been a confusing team, looking the first half of the season like they didn't belong anywhere near the top 25, and now appearing as a team that has a legitimate chance to hold a share of first place in the SEC. They often win games ugly, just as they did on this occasion. Auburn shot just 35% from the field and 20.8% from 3pt range. Jabari Smith and K.D. Johnson pulled their weight with 27 and 18 points respectively, but the rest of the team combined for just 17 points. Wendell Green, Jr. had a particularly forgettable game, going 2-15 for 5 points. Tennessee, not unlike Michigan St against Purdue, showed that balanced scoring often gets the job done in low-scoring games. They had 4 players in double figures and made six 3's to Auburn's five, despite taking 8 less long distance shots.
Gup. Difference maker. pic.twitter.com/OVIog0COHN

— Tennessee Basketball (@Vol_Hoops) February 27, 2022
#2 Arizona gets rocked by Colorado 79-63
The brightest spots in this game for Arizona were that they were up by 5 at halftime (which actually might make this loss worse, depending on how you look at it) and actually had a very solid showing from the free throw line at 18-22. Other than that, it's tough to see a silver lining on this particular night for the Wildcats. Colorado has been sneaky at home against a couple of good opponents this year, but there isn't an instance in which Arizona should lose by 16 and be outscored 47-26 in the second half. This is a "learn from it and move on" game for the Wildcats, as it's only their third loss on the season and they still hold a 1.5 game lead in the Pac12 with one week left.
DOWN GO THE WILDCATS #BUFFSWIN pic.twitter.com/7YmAWyXFOE

— Colorado Men's Basketball (@CUBuffsMBB) February 27, 2022
#1 Gonzaga stunned by #23 St. Mary's 67-57
The biggest one of the night came on the West Coast, as Gonzaga dropped its first conference game in 2 years, almost to the day. Saturday was Gonzaga's lowest scoring output of the season, and was 31.3 points less than their average ppg. St. Mary's also managed to hold a Gonzaga team that shoots over 53% on the season to just 36.7% shooting. St. Mary's won this game in the first half, leading 36-21 at the break. Gonzaga has been played close several times this season, but they normally explode in the second half. This time around, a very solid defensive unit in St. Mary's, averaging 59.4 points allowed on the season, stayed consistent.