The UAE Pro League round of 24 saw some of the most exciting games and goals of the season.
League leaders Shabab Al Ahli were held to a surprising 2-2 draw with fifth-place Al Wasl at home. However, an even bigger upset occurred when bottom-half team Baniyas FC scored two goals at the end of the second half to hold the league chasers, Al Ain FC to another 2-2 draw.
A win for Al Ain would've seen them close the game to 1-point with league leader Shabab Al Ahli.
Sharjha FC's hopes for the title were dashed after a 2-1 loss to eighth-placed Ittihad Kalba at home. While third place Al Wahda continue their push for glory by keeping pace with Al Wasl on 48 points each after a comfortable 2-0 win away at Khorfakkan FC.
A dominant display for Al Jazira, who will relinquish the title they won last season, lead to a 3-1 home win against Al Bataeh.
It was another bleak match for already relegated Al Dhafra FC as they lost 2-1 to Ajman FC, who themselves cannot win the championship now.
In the race to beat relegation, Dibba FC kept their Pro League status alive with a crucial, hard-fought 2-1 win against Al Nasr. Nonetheless, their safety isn't assured yet as they only sit above the relegation zone on goal difference and share the same points (18) with Al Bataeh.
The Title Race
Only three teams remain hunting for the title with three points separating them.
Two wins from the remaining two fixtures will guarantee Shabab Al Ahli the championship, but fourth-place Ajman (who also play Al Wahda FC) could have a big say in the swing of who earns the top spot.
Out of the three teams gunning for the championship, Al Ain probably have the easiest fixtures remaining although Al Bateh may be fighting with them to avoid relegation on the last day of the season.
Whatever the outcome, it's safe to say it's been an enthralling UAE Pro League season and we can't wait to see who will be crowned champion.
Here are the remaining fixtures for the title contenders:
1) Shabab Al Ahli
Round 25 – Bani Yas (11) v Shabab Al Ahli (1)
Round 26 – Shabab Al Ahli (1) v Ajman (4)
2)  Al Ain FC
Round 25 – Al Wasl (5) v Al Ain (2)
Round 26 – Al Ain (2) v Al Bataeh (13)
3)  Al Wahda FC
Round 25 – Ajman (4) v Al Wahda FC (3)
Round 26 – Al Wahda (3) v Bani Yas (11)
Gameweek 25 Fixtures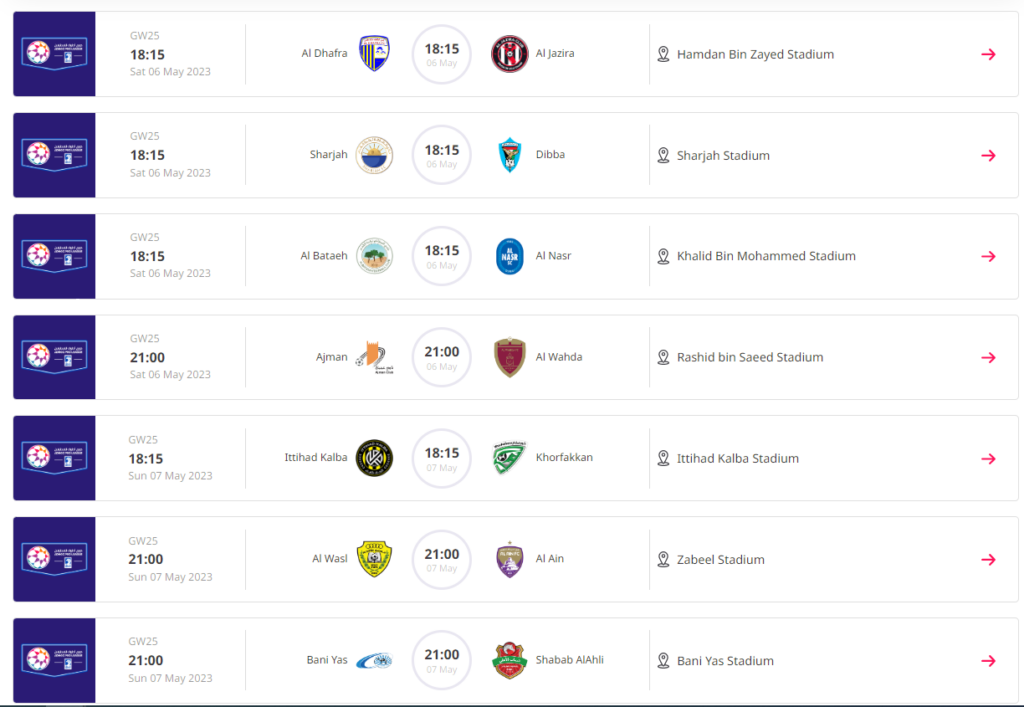 Standings