Ralf Rangnick's name has dominated the sports media since last Monday, when he was first linked with the manager's role at Manchester United. Just a week later, the news broke that he was to join the club as interim manager, followed by a further two-year consultancy role. Though today his work permit has been granted, Rangnick will be in the stands watching on tonight, as his new team face Mikel Arteta's plucky Arsenal side.
Rangnick facing gigantic task – in more ways than one
"Unfortunately, a good coach is coming to England" was how Jurgen Klopp greeted the news at his press conference last week. "It is not good news for other teams", he said: such is the esteem in which Rangnick is held by the Liverpool manager.
Right now, Manchester United have a hugely underperforming set of players. So, can Rangnick turn things around? Known as a football visionary – one of the first to employ a high-pressing game, this will be top of his agenda when he arrives at the Carrington Training Centre. Organisation and high pressing and energy are common traits of his teams – characteristics which have been lacking in recent months at United under Ole Gunnar Solskjaer.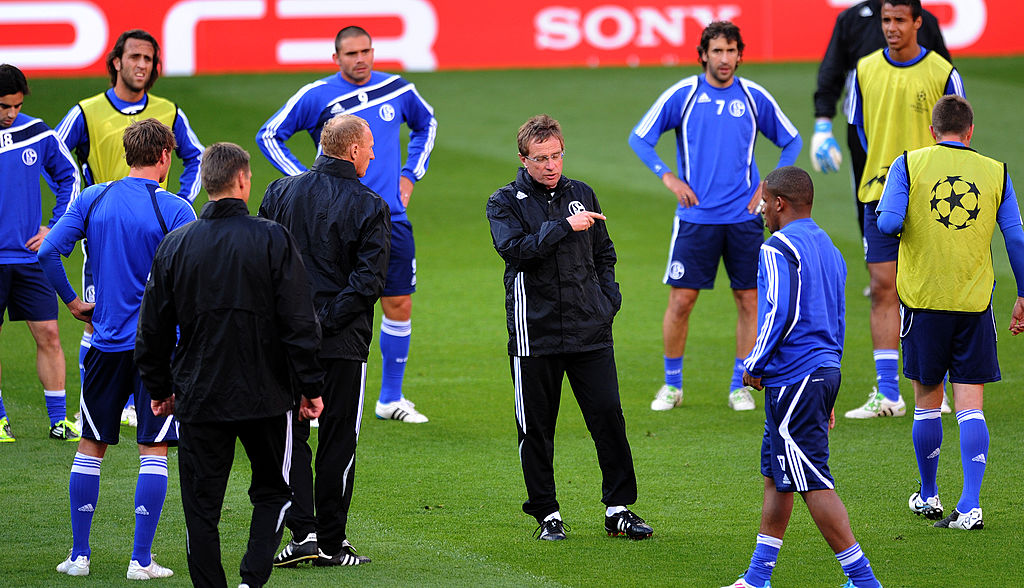 Rangnick has successfully built two Bundesliga sides: firstly with Hoffenheim between 2006 and 2011 where he took the side from Regionalliga Süd to Bundesliga regular by the time he departed the club. He repeated that success when he joined the Red Bull group in 2012, again building RB Leipzig from Regionalliga Nordost (fourth tier) regulars into Bundesliga and Champions League contenders. 
His success has all been built around the ubiquitous "Gegenpressinghe". It has become synonymous with German football coaching, as Rangick left his mark on the coaching manual in his home country. Disciples of his who currently operate in the Premier League include Klopp, Tuchel and Hassenhuttl. The philosophy is built on a high energy press from the team in an organised and structured way, each player knowing the trigger point with which the press begins.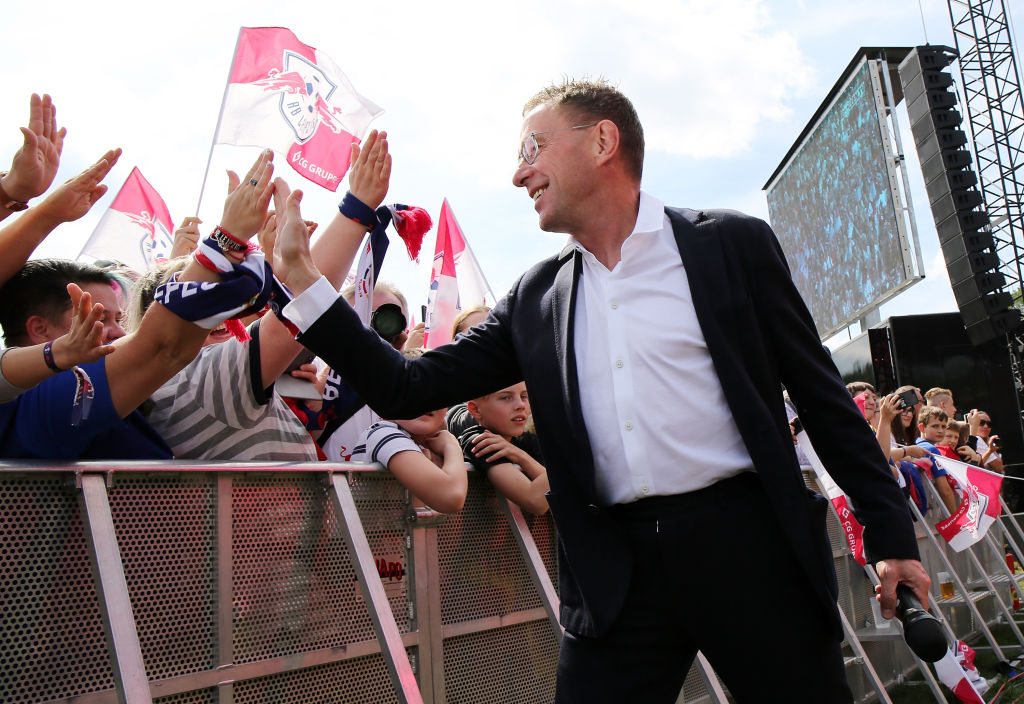 The role at Old Trafford is that of an interim manager until the end of the season, so it remains to be seen if he will be able to transform United from a team that currently sit fourth bottom in Premier League pressing stats and third bottom of the table in the number of times the squad gained possession within five seconds of applying the press. Leeds, Liverpool and Manchester City occupy the top spots unsurprisingly in the attacking third of the field press, while Manchester United's attacking press is fifth from bottom.
During his 2018-2019 season with RB Leipzig, Rangnick's ideals were at the peak of their powers. His team ranked first in interceptions, tackles, recoveries, and goals conceded. Manchester United currently rank 18th in goals conceded, 19th in interceptions and recoveries and 20th in tackles.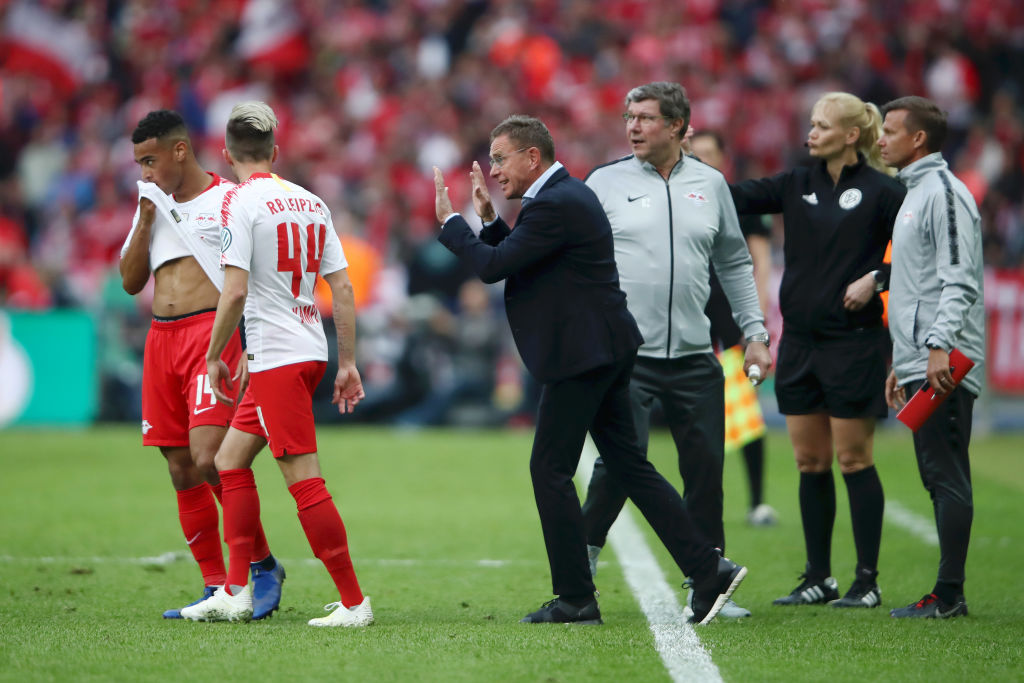 Huge questions will be asked as to how a 36-year-old Cristiano Ronaldo will fit into a Ralf Rangnick team. Unquestionably a match winner and goalscorer, Rangnick will want much more from his centre-forward off the ball and out of possession. In Rashford, Greenwood and Sancho, they have the players with the qualities that can start a high press, so seeing how he manages Ronaldo's expectations is going to very interesting in the coming weeks.
There's so much work for Rangnick to do to turn United into a team in his own image though, and with a congested fixture list coming up there won't be much time on the training ground.
Trusting the process: Arsenal hitting form at the right time?
Until a 4-0 drubbing at Liverpool a few weeks back, Arsenal had been one of the league's form teams. Opening their season with three defeats in a row posed pertinent questions about Arteta's future. Since then, excluding the Liverpool defeat, Arsenal have put together an impressive string of results – rising to fifth in the table. They are level on points with West Ham, who occupy the final Champions League spot.
Arsenal go into tonight's game off the back of a comfortable 2-0 victory over Newcastle at the weekend. It could have been a wider margin, with Aubameyang placing his name in the hat for a 'miss of the season' contender in the first half.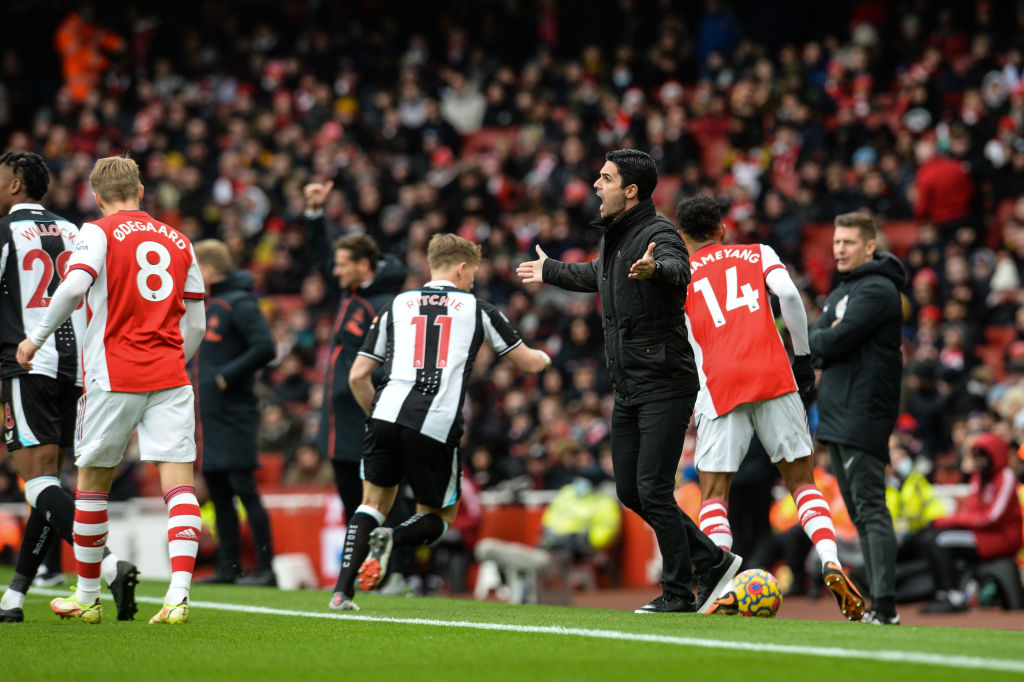 There always appears to be a crisis around the corner at the Emirates. Arteta has not silenced all his critics, with many pointing to the fact that wins this season (apart from a derby victory over Spurs) have all come against sides in the bottom half: Burnley, Norwich, Aston Villa, Watford and Newcastle. Arsenal have failed to deliver in big games this season, falling to short against Chelsea, Manchester City and Liverpool. Thursday night will be a good test for Arsenal to see if they can overcome a team they will now see as a direct rival for the fourth Champions League spot.
Arteta has always been something of an inconsistent manager. His Premier League record to date reads 34 wins, 15 draws and 22 defeats from 71 matches, with 102 goals for and a worrying 77 goals against in those games. This season, scoring has been as big a problem as keeping them out at the other end. Arsenal have only scored 15 goals in their 13 matches to date. Defensively though, Manchester United are the only team to have conceded more (22) than the 17 that Arsenal have conceded so far this season.
With Arsenal having a point to prove, and hoping to increase the gap between a fellow top-four rival, expect them to start strongly. United, on the other hand, were massively outplayed by Chelsea at the weekend and were lucky to get a point; they appear to be treading water until Rangnick can take over fully, which he will do against Crystal Palace on Sunday.