Saints to face Hawks in the final
The Wellington Saints will play the Bay Hawks in the Grand Final of the NBL after they both won their respective semi-final ties.
---
Saints march on
The Saints turned it around in the second half to win 99-73 after they were trailing at half-time.
One to come 🔥💙#wellingtonsaints #SalsNBL pic.twitter.com/0C83HPho3C

— Saints Basketball (@saintswgtn) July 22, 2021
The Huskies were without key man Justin Bibbs and they fell short against the leading side in the NBL.
---
The match
They were leading 50-44 at half-time but the Saints demonstrated their ability to go up a few gears when they need to, and were tremendous in third quarter – taking it 30-8.
Tohi Smith-Milner and Kerwin Roach Jnr were both outstanding. Smith-Milner scored 30 points while Roach Jnr added 24 points and Dion Prewster scored a triple double.
Below is Smith Milner's shot chart provided by FIBA LiveStats. He was successful with 44% of his three point attempts.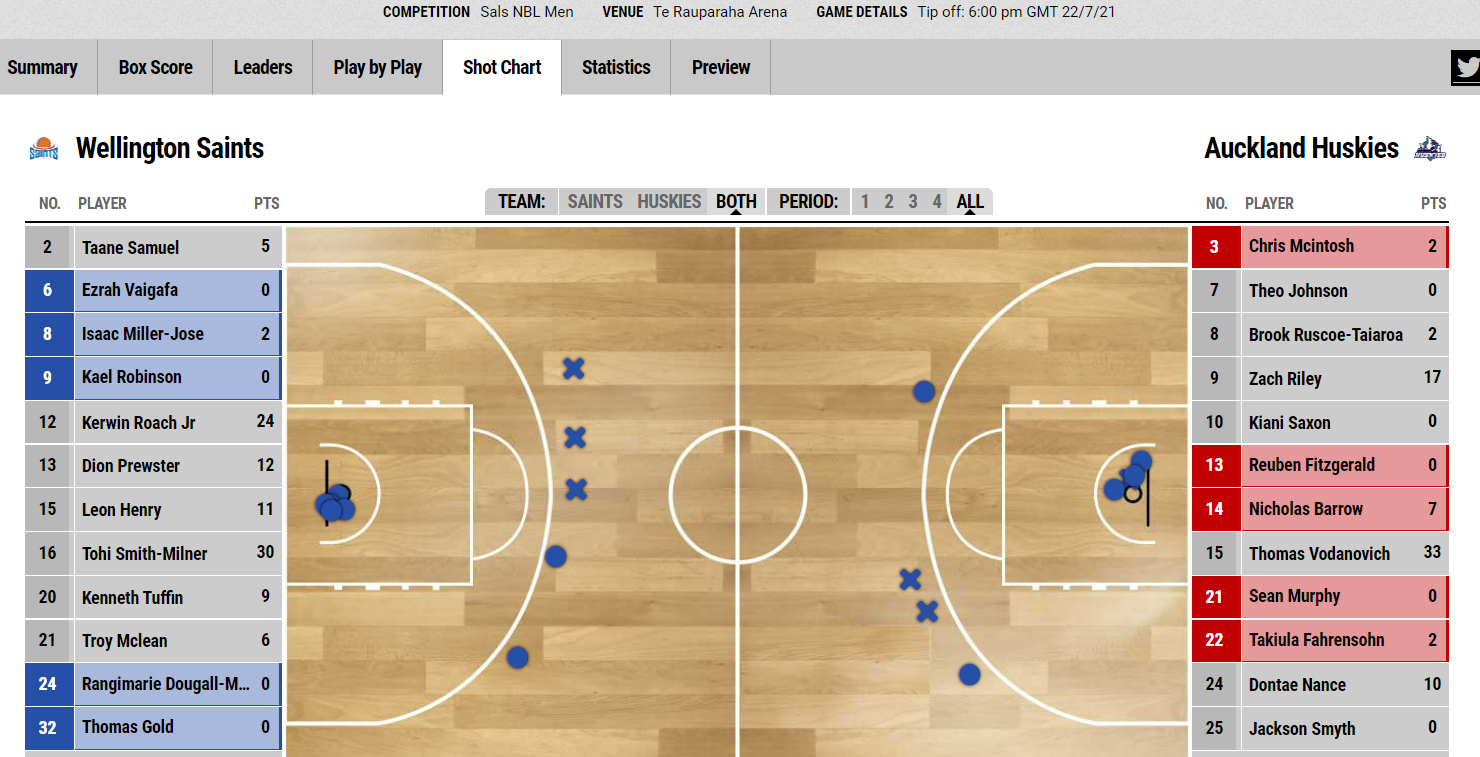 Smith-Milner and Roach took the Huskies apart in the third quarter to turn the game on its head and send the Saints on the way to the final.
There was an outstanding performance from Tohi Smith-Milner, who scored 30 points. Kerwin Roach Jnr added 24 points, while Dion Prewster scored a triple double
Tom Vodanovich was unlucky to be on the losing side. He scored 33 points and made seven rebounds for the Aucklanders.
---
Hawks looking for revenge
The Saints will have to get past the Bay Hawks if they want to win their 12th NBL Championship.
The Hawks, who were beaten in the 2019 Grand Final by the Saints, edged past the Southland Sharks 98-91.
It was a match where the Hawks were mostly in the ascendancy but only one point separated the teams with just over eight minutes to go.
But two lay-ups from Derone Raukawa changed the dynamic of the game and the Hawks were able to control the game from there.
Devondrick Walker was influential for the Hawks, scoring 33 points and five rebounds.