After the league season, the play-offs are under way in the Brazil Liga de Basquete Feminino division (LBF), and there has already been some drama with lots more to come.
Sampaio show their class
Sampaio Basketball beat Santo André/Apaba 76-65 in the opening match of the three-match series in Santo Andre.
It was a match that went with form as Sampaio finished third in the regular season, three places above the hosts.
Isabela Ramona was in stellar form, scoring 18 points, while Débora was named as the MVP with 14 points, 8 assists and 6 steals.
Below is a FIBA LiveStats shot chart from Isabela Ramona's match. She was successful with six of her eight three-point attempts, a success rate of 75%.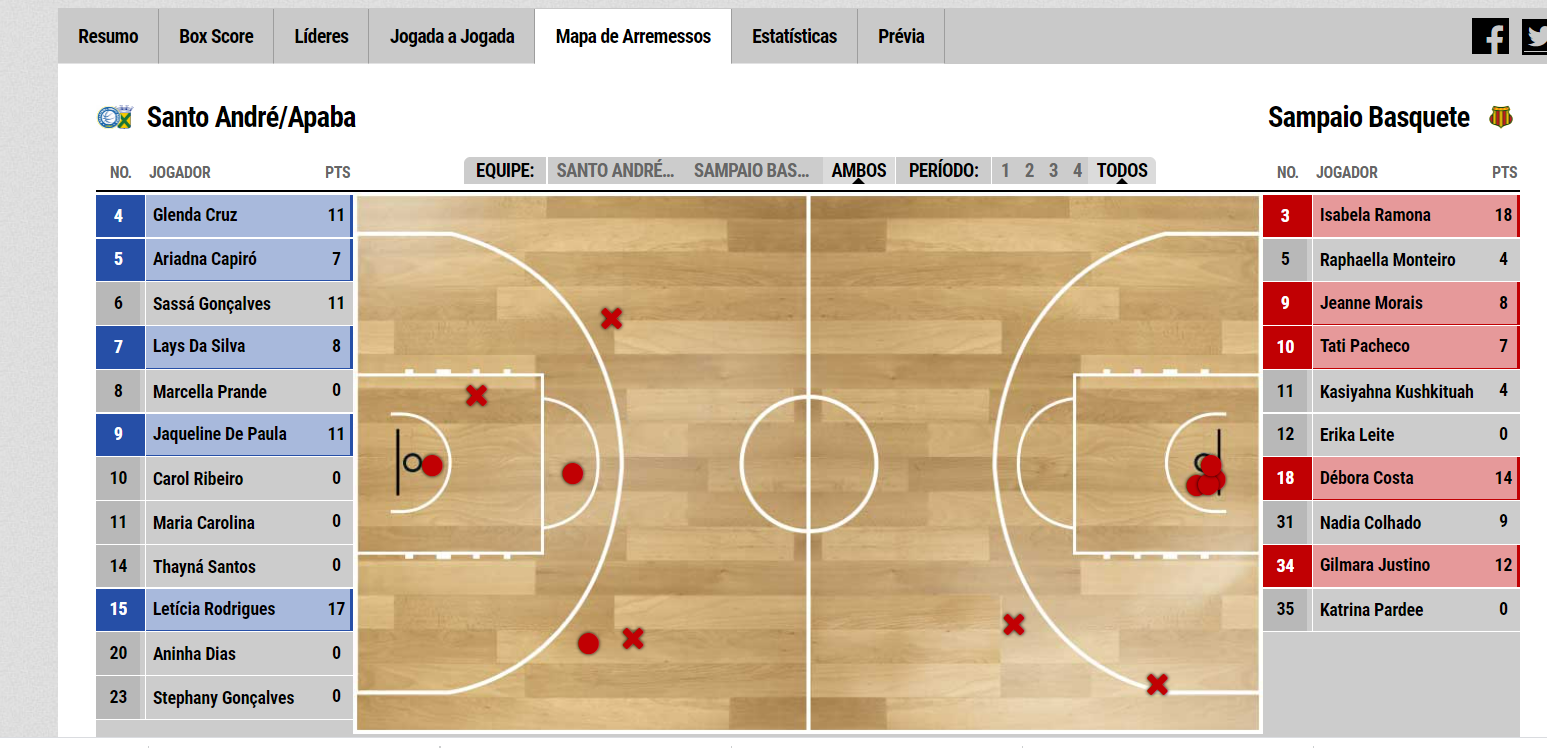 Leticia Rodrigues was the standout for Santo André/Apaba as she made 17 points. Glenda Cruz registered her fourth double-double of the season as she scored 11 points and made 17 rebounds.
The second match of the series is on Friday, which is must-win for Santo André/Apaba, who need to win to take the series to the final game.
---
Thayná a level above
Thayná was in top form for Sodiê Doces/Mosque/LSB, who showed their class by beating Vero Cruz Campinas 80-69 in the first match of the quarter-final series.
The Rio side won comfortably after a brilliant display by Thayná, who scored 33 points and was named the player of the match.
Below is a shot chart from Thayná, who was successful with 70% of her attempts.
Mayara and Daniels added 14 and 13 points for Sodiê Doces.
For the team from Campinas, Tassia, the team's brightest spark of the season, made 23 points.
PLACAR FINAL!@lsb_oficial 8️⃣0️⃣x6️⃣9️⃣ @VeraCruzBasket

LSB lidera série 1×0

Com 33 pontos de Thayná, o time fluminense faz valer seu mando de quadra e abre 1-0 na série!

O jogo 2 é no próximo domingo, 25, 14h na @tvcultura!

📸 @diegomaranhaobr#PlayoffsLBF#LevanteABolaDelas pic.twitter.com/fiYc6m3LJn

— Liga de Basquete Feminino (@LBF_Oficial) July 17, 2021
---
Blumenau hold off Araraquara
A strong first-half was enough for KTO/Blumenau to resist a second-half fightback from SESI Araraquara and win 83-78 in the first match of the series.
The hosts started excellently and were 11 points up at the end of the first quarter.
Captain Mariana Camargo put in her best performance of the season, scoring 17 points, while Cacá won the player of the match award after making 16 points, eight assists and four steals.
---
Ituano go ahead in series
With 20 points from Patty Teixeira and double-doubles from pivots Érika De Souza and Mariana Dias, Ituano beat AEC/Tietê Agroindustrial/BAX Catanduva 89-82 to take a 1-0 series lead.
Teixeira's 10 points in the third quarter looked to have sealed the win for Ituano as they led 69-53 with a quarter left. But the hosts, spearheaded by Bianca Araujp, responded superbly to narrow the lead to just one point.
Ituano used their experience to get over the line and have the chance to secure a place in the semi-finals with a win on Thursday.
Amanhã você escolhe por onde quer acompanhar o Galo! 📺🐓

A partida desta quinta-feira (22), pelo jogo 2 das quartas de final da #LBF2021, será transmitida também pela Twitch do @NBAdasMina.https://t.co/CrqZHU2r4B#ItuanoBasquete #LBFLive #LBFdasMina #LevanteABolaDelas pic.twitter.com/bZ5qk4ZCsH

— Ituano Basquete (@ItuanoBasquete) July 21, 2021
---
Series recap:
Best out of three series
Ituano Basquete 89 – 82 Agroindustrial/BAX Catanduva
(Ituano lead series 1-0) (Match 2 – 22/7)
SESI Araraquara 78 – 83 KTO/Blumenau
(Bluemenau lead series 1-0)
(Match 2 – 24/7)
Sampaio Basketball 76 – 65  Santo André/Apaba
(Sampaio lead series 1-0)
(Match 2 – 23/7)
Vera Cruz Campinas 69- 80 Sodiê Doces/Mesquita/LSB
(Sodiê Doces lead series 1-0)
(Match 2- 25/7)