On the heels of an exciting Women's College World Series, the NCAA baseball world turns its eyes to Omaha, Nebraska for the College World Series (CWS). Every year, 8 teams head to Omaha to battle for the College World Series title. This year's field is set and after a wild Super Regionals, lets take a look at the remaining teams.
The Super Regionals concluded earlier this week, determining the final eight teams. Those making the trip to Omaha are:
#2 Stanford
#5 Texas A&M
#9 Texas
#14 Auburn
Notre Dame
Arkansas
Oklahoma
Ole Miss
The 2022 Omaha 8!#MCWS pic.twitter.com/X7mNo1sJwS

— NCAA Baseball (@NCAABaseball) June 14, 2022
A shock defeat for #1 ranked Tennessee
Notre Dame punched its ticket to the CWS by defeating #1 Tennessee in the Super Regionals. Heading into the post-season, Tennessee was considered one of the best college baseball teams of all time. The Volunteers dominated on both sides of the diamond, leading the league in home runs and ERA. Despite their dominance, Notre Dame knocked them out in game three of their Super Regional Match-Up.
An unpredictable bracket
A final eight with four ranked and four unranked teams sets up an exciting final tournament.
Arkansas is unranked this year, but had the number one team last season before losing themselves in the Super Regionals. The Stanford Cardinal have been solid all season and escaped a near-upset from unranked Connecticut to reach the CWS.
Texas fans can enjoy the opportunity to watch the Longhorns potentially play three of their biggest rivals: Texas A&M, Oklahoma and Arkansas.
And which of the unranked teams will make it to the CWS Final?
Here's how the bracket shapes up: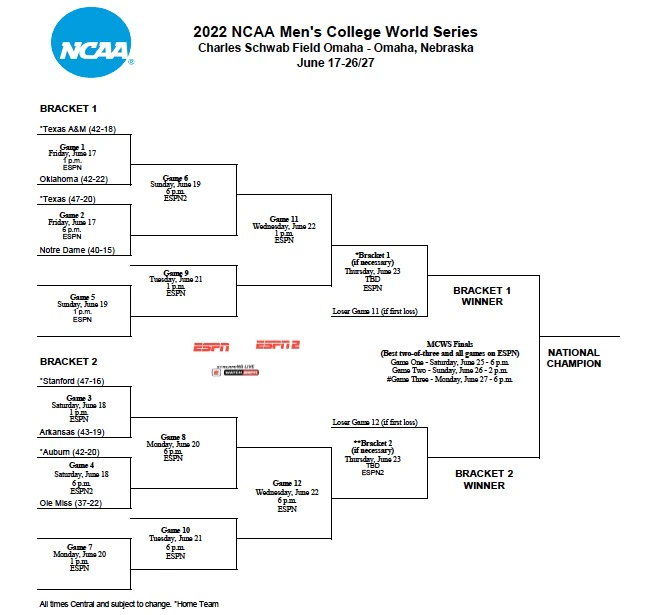 All eight teams will play a double elimination tournament until two teams remain. Those final two teams play a three-game series June 25th to June 27th to determine the National Champion.
Stay tuned to The Playbook on social media for updates throughout the tournament as we march towards crowning the NCAA National Champion in baseball!