Touchdown! As Malik Henry trotted into the Montreal Alouettes' endzone to score the Calgary Stampeders first points of the night, he also scored the first point of the 2022 Canadian Football League season. Here's what the action from Week One taught us about this upcoming season.
New season, new rules
The CFL's new rule changes were in full effect this week.
As with most rule changes, the ultimate aim was to increase the appeal of the league by focusing on a faster-paced and safer game.
Some of these rule changes included the narrowing of hashmarks (creating a more centralized playing field), and moving post-score kickoffs back from the 35-yard line to the 30-yard line. It meant that teams were to start on the 40-yard line instead of the 35-yard line after a rouge. (Note: a rouge is a single point awarded to a team if a team misses a punt or field goal and it is not returned.)
And so far, it appears to have worked! There were 210 points scored across all games last weekend. Throughout the entire CFL, there was a more exciting pace and felt as if there were more possessions for both teams.
The CFL is still a Quarterback league…
We saw two games where play-callers had enormous impacts on their games – for different reasons.
This past Friday, the first round of CFL games commenced with the Calgary Stampeders narrowly beating the Montreal Alouettes by a score of 30-27.
Led by two-time CFL Most Outstanding Player, Bo Levi Mitchell, the Stampeders look to ascend as contenders this CFL season. Mitchell threw for nearly two hundred yards and a touchdown in their victory, despite leaving the field with an injury.
Last night's game balls! pic.twitter.com/z21NJjLNgj

— Calgary Stampeders (@calstampeders) June 10, 2022
Additionally, during the weekend, the defending champion Winnipeg Blue Bombers took on the Ottawa Redblacks, edging them out by a score of 19-17.
Although the Blue Bombers won, they are going to need the CFL's reigning Most Outstanding Player Zach Collaros to come back strong, as he exited their first game with a head injury.
Collaros is an electric dual-threat quarterback who played at the University of Cincinnati and, shortly thereafter, led the Blue Bombers to be the Grey Cup champions in 2021.
BC Lions are… good!
In fairly surprising fashion, the BC Lions thrashed the Edmonton Elks, annihilating them by a score of 59-15.
Learn this name: SIONE TEUHEMA (See-oh-nee Tuh-hem-uh)

3 QB Sacks on Saturday night… and that's just game 1. 😤#RoarLikeNeverBefore @steuhema32 pic.twitter.com/YRInsXJKdl

— BC LIONS (@BCLions) June 15, 2022
The Lions' dominance was, in part, due to their quarterback Nathan Rourke – a 2020 draft pick – and free agent James Butler. Rourke threw for nearly 300 while also piling up three touchdowns.
His teammate, James Butler, looked absolutely unstoppable, torching the defense for 141 scrimmage yards and four total touchdowns. Both performances seemingly came out of nowhere, as Butler only had only averaged 45 yards per game in 2021 and Rourke threw for three touchdowns all of last year! The BC Lions do not play next week but look to build off their strong performance in week three versus the Toronto Argonauts.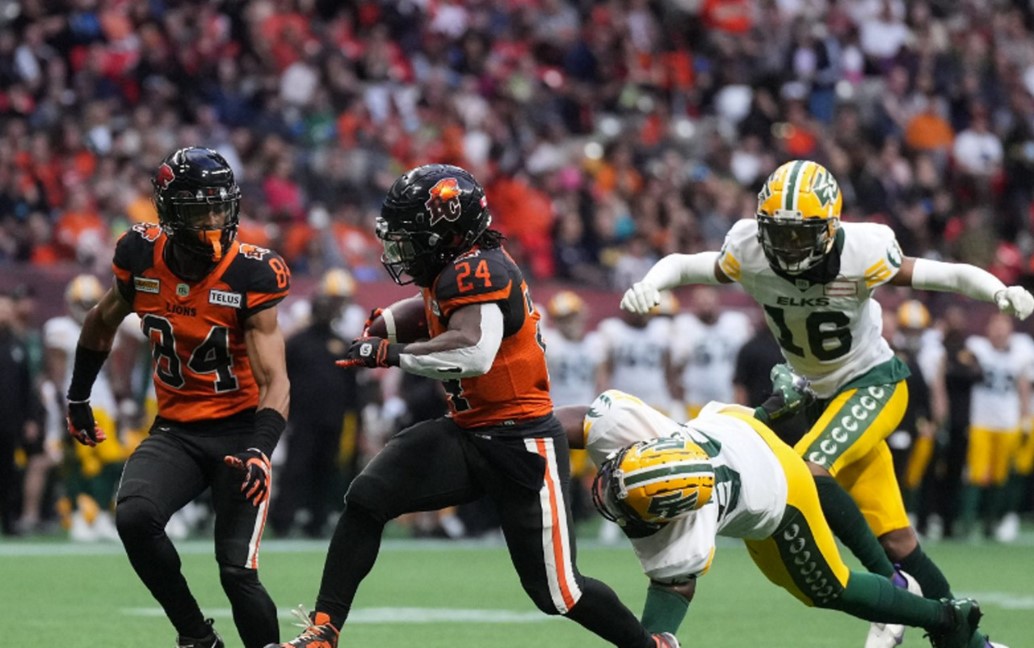 The schedule is as fast as the games
It's a long season – the first 18-game season since 2019, and week 2 is fast approaching.
On Thursday, the Toronto Argonauts take on the Montreal Alouettes, in what should be a very exciting game.
This weekend, we recommend watching the Calgary Stampeders versus the Hamilton Tiger-Cats. Last season's Grey Cup runners-up underperformed last week and will be looking to fix their form at the second time of asking.