Lakers top of the conference
NBA Finals champions LA Lakers have started this season like they ended the last with 10 wins in their first 13 games.
The Lakers lead the outright table and are top of the Western Conference after three consecutive away victories this week, two of those against the Houston Rockets.
---
A record
The Lakers made history against Oklahoma City Thunder on Wednesday (GMT)  by winning 128-99, their seventh straight victory on the road. Their previous record was six in 1985/86.
Handling business. Back home on Friday. pic.twitter.com/vinblncXMh

— Los Angeles Lakers (@Lakers) January 14, 2021
---
James stats
LeBron James scored 26 points, made seven assists and six rebounds. He scored five of his three point attempts. This season, the Lakers star man has collected 316 points in 13 matches, as well as 105 rebounds and 97 assists. He has a field goal percentage of 48.3%.
W in OKC ✅
3-0 road trip ✅
7-0 road record ✅ pic.twitter.com/ry30G48vK9

— Los Angeles Lakers (@Lakers) January 14, 2021
Montrezl Harrell added 21 points and six rebounds, while Anthony Davis scored 18 and seven rebounds.
Thunder sit 11th in the Eastern Conference with five wins and six defeats.
---
Double success
They beat the Houston Rockets 117-100 on Wednesday (GMT) with James scoring 26 again with 8 rebounds and 5 assists.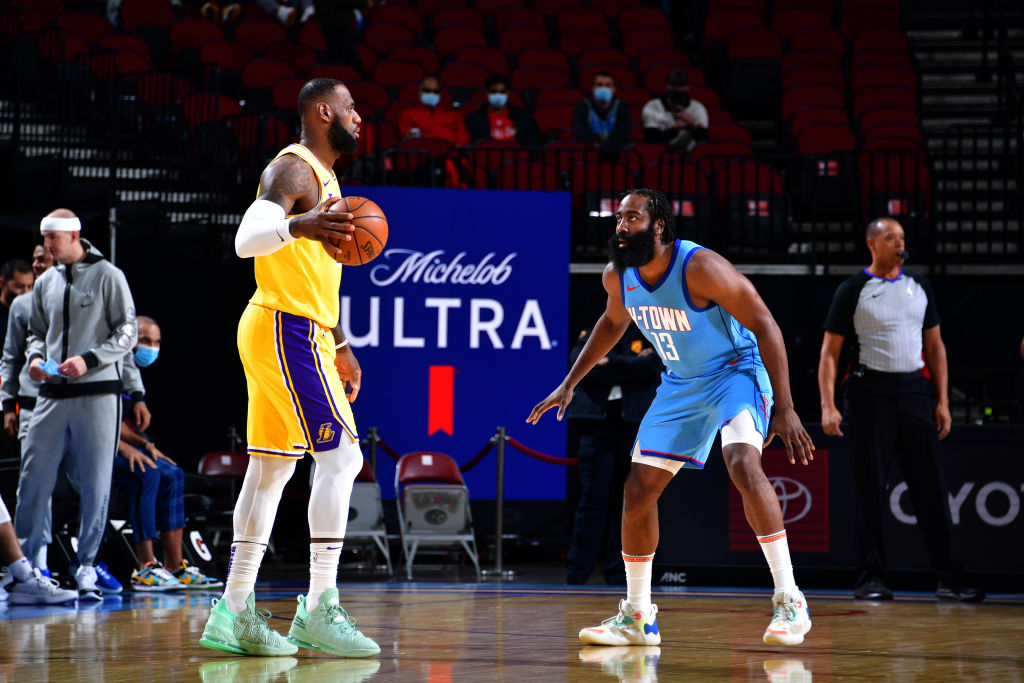 On Monday, they also got the better of the Rockets, winning convincingly once more by 120-102. Anthony Davis was the key man in that win with him scoring 27 points.
The Rockets have lost six of their nine games and sit second-bottom.
---
Featured image: LeBron James #23 of the Los Angeles Lakers shoots a three point basket during the game against the Houston Rockets on January 12, 2021 at the Toyota Center in Houston, Texas. (Photo by Cato Cataldo/NBAE via Getty Images)