Reigning champions thump Rugby New York
LA Giltinis put on a display that will send shockwaves around the league as they powered past Rugby New York by 43 points to 0 and move to 6-3 for the season.
With 43 unanswered points, LA rightfully earnt the accolade of MLR Team of the Week. They scored 6 tries, 1 penalty and made 4/5 conversation for a near-faultless attacking display.
LA winger, John Ryberg finished with 10 points scored, 2 tries, 10 ball carries and 114 metres ran to put in one of the best attacking displays of the season.
It's a result that leaves New York asking a lot of questions. This will be incredibly damaging for their prospects of play-off contention. They will be worried about their defensive fragility while equally perplexed at why they couldn't take the chances their attacking intent warranted.
They now have a bye week to regroup for a vital clash against New England in Round 12 where they not only need a result, but a better performance to bury the ghosts of this matchup against LA.
Austin edge Western clash to maintain their lead
With LA breathing down the necks of their rivals, the Gilgronis executed a professional display against San Diego to maintain first position in the Western Conference.
Mack Mason (15 points scored) for Austin and Joe Pietersen (11 points scored) for San Diego increased their tally to influence the game for both of their respective sides.
However, it was Gilgronis full back, Chris Mattina who received the player of the week award for his dominant display. Mattina finished with figures of 11 ball carries, eight ruck arrivals, 171 metres run and capped off his performance with a well-worked try.
San Diego are still struggling to convert against top tier sides in the league. It will probably inevitably be their downfall if they don't make it into the play-offs at the end of the season.
Their glimmer of hope lies with the league's top scorer, Joe Pietersen. They know that with a consistent kicker like Pietersen, if they are struggling to score tries, they can count on him to keep the scoreboard ticking over in decisive decisions where they win penalties.
Other results
NOLA Gold 17 – 34 Rugby ATL
 ATL put in a commanding display in New Orleans as they continue to pile pressure on New England.
Full-back for ATL, Joaquin De La Vega Mendia showcased his qualities finishing the game with figures of 12 points scored, 1 try and 58 kicking metres in a high-scoring fixture.
Houston SaberCats 31 – 6 Dallas Jackals
 Another Texan battle did not go the way of the Jackals. Houston outfought and outmuscled their neighbours in every aspect.
It was a defensive nightmare again for Dallas. This was epitomised with a try from Houston flanker Danny Barret as he broke the brittle Dallas defence to score their second try of the game.
New England Free Jacks 24 – 22 Seattle Seawolves
 In an extremely tight affair, New England held their grasp on first place in the Eastern table with experience and quality in the right moments proving key to their win.
It's now their 6th victory in a row which sets a new record for their franchise. In round 12, after their bye week, they face Rugby New York where they could equal the MLR record for consecutive victories set by Toronto Arrows in 2019.
Free Jacks Flanker, Slade McDowell scored one try, ran with the ball for 107 metres and successfully completed 22 tackles to earn himself a recall to the MLR team of the week for Round 10.
Eastern Conference Table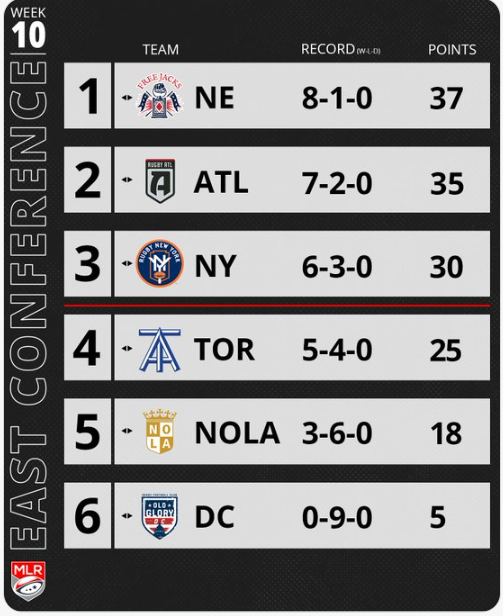 Western Conference Table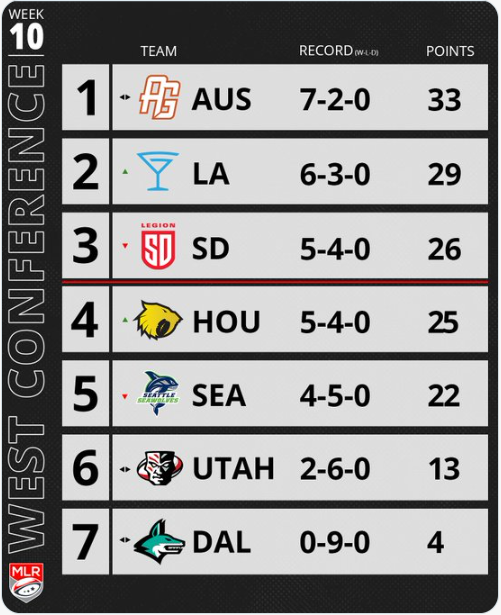 Old Glory on the path to their first win
Old Glory (0-9) v Utah Warriors (2-6), Friday 15th April 8pm EST
After two rounds of close encounters for Old Glory DC, they have a fantastic chance to obtain their first win of the season.
A close 5-point loss to Toronto Arrows sets Old Glory up for more confidence heading into defining fixture against Utah. Both are teams are closely matched with tries scored this season. Utah sit 8th with 28 tries scored and Old Glory are 9th with 27 tries scored. However, it's the defence that set the two apart. Utah are 10th in the standings with 29 tries conceded, but Old Glory are 12th having let 47 tries past their defence.
If Old Glory are to win, they need to focus their attention on defensive solidity. Then ensure top try scorer for the franchise, winger Peni Lasaqa is given the reigns to unleash his quality.
For Utah, their bye week in Round 10 have given them a chance to regroup, after recently dismissing their coach. They will want to get back to winning ways, but this will be hard as Old Glory are growing in confidence.
Prediction: Old Glory to win by 3 points
Other fixtures
 Toronto Arrows (5-4) v NOLA Gold (3-6), Saturday 16th April 12:00pm EST
Seattle Seawolves (4-5) v San Diego Legion (5-4), Saturday 16th April 6:00pm EST
LA Giltinis (6-3) v Houston SaberCats (5-4), Saturday 16th April 6:00pm EST
Dallas Jackals (0-9) v Austin Gilgronis (7-2), Saturday 16th April 9:00pm EST
 You can catch the highlights of all Round 10 fixtures on the MLR YouTube channel here.