Boca Juniors triumphed in the Copa de la Liga for a second time last weekend, defeating Tigre 3-0 in the final at the Estadio Mario Alberto Kempes.
Boca may not have been the most impressive side during the Group Stages with Racing, River Plate and Estudiantes all finishing with more points than Los Xeneizes. However, in a testament to the beauty of knockout football, Sebastián Battaglia's side performed when it counted. Here's the story of how they won the Copa de La Liga.
Boca cruise through Group Stages 
Boca's Copa de la Liga season began back in mid-February as they drew 1-1 with Colón in a match that saw the 2020 and 2021 Champions go head-to-head. Returning hero Darío Benedetto headed Boca in front but a late equaliser from Lucas Beltrán meant both sides had to settle for a point a piece.
This was followed by back-to-back victories over Aldosivi and Rosario Central with Sebastian Villa contributing 2 goals and 2 assists in his opening three games.
Battaglia's side then drew 1-1 with Independiente before suffering their first defeat to Huracan. Boca lost 1-0 despite having 65% possession.
A 1-0 win over Estudiantes lifted hopes before the Superclásico. The game against River saw Boca play with their backs against the wall. Los Xeneizes had just 36% possession and 2 shots on target to River's 8.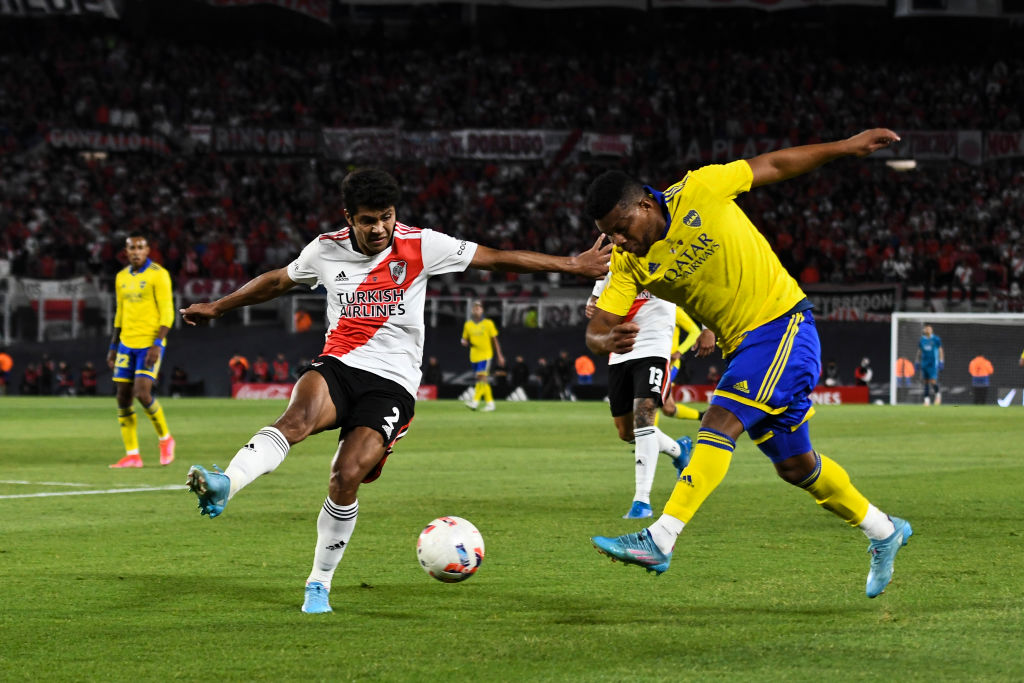 However, remarkably Boca won 1-0  thanks to a goal from Sebastian Villa. The victory was largely thanks to goalkeeper Agustin Rossi who had a phenomenal game.
The relief and confidence of the victory didn't spur Boca on massively, as they drew their next four games in the competition. They finally got a win against Central Cordoba and went on to win their remaining three games to finish second in Group B, one point behind Estudiantes.
Boca effective in play-offs
Battaglia's side were drawn against Racing in the semi-finals. La Academia were unbeaten in Group A and managed by former Boca player Fernando Gago.
The match was even possession-wise with Racing just edging it with 52%. However, Boca had just 2 shots to Racing's 13. It finished 0-0 and a penalty-shootout followed. Boca won 6-5, with Alan Varela scoring the decisive kick.
The final saw Los Xeneizes face Tigre, who had only been promoted to the top flight last season.
Boca took the lead just before half-time as Marcos Rojo headed in a Sebastian Villa corner. Left-back Frank Fabra doubled his side's lead with a thunderbolt from outside the box into the top corner on the 68th minute.
🎥 ¡Los gritos de la consagración en la tarde de Córdoba para que vuelvas a festejarlos y abrazarte! 🗣⚽️🏆#VamosBoca 🟦🟨🟦#Siempre𝗕𝗢𝗖𝗔 pic.twitter.com/3LktxYKsHg

— Boca Juniors (@BocaJrsOficial) May 23, 2022
The victory was then sealed as Luis Vazquez fired his header in from another Villa free-kick on the 86th minute.
The match finished 3-0, Boca making the most of their 15 shots (5 on target). The match was not as straightforward as the scoreline suggested, with Tigre having 10 shots but failed to take their chances and only managing 2 efforts on target.
Overview
The fact that Boca beat a recently promoted side in Tigre in the final shows the competitive edge of the Liga AFA. It demonstrates that any team can have success in a division where the best talents are always moving on to European clubs.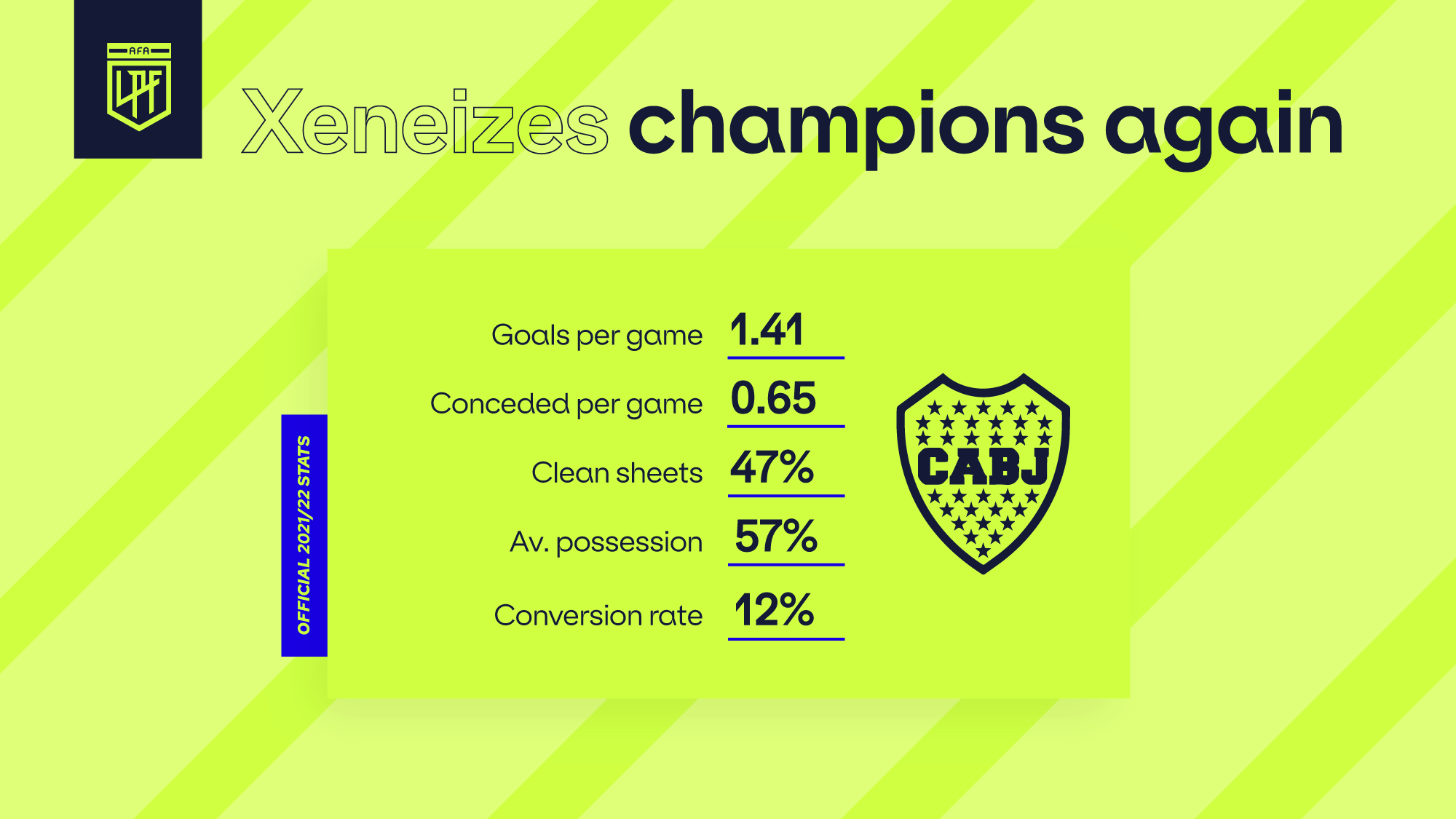 Boca have not been the prettiest team to watch this season. Their victories against teams such as River Plate and Racing have come despite having less possession and efforts on goal.
Boca's side is far from the star-studded teams of the past that has included the likes of Carlos Tevez, Juan Roman Riquelme and Diego Maradona. However, they have stars of their own in Sebastian Villa who finished the season with 5 goals and 7 assists, their top goalscorer Darío Benedetto who scored 7 goals in total, and Agustín Rossi who in the group stage made an average of 3.3 saves per game.
👃9⃣⚽️ @PipaBenedetto #Siempre𝗕𝗢𝗖𝗔 pic.twitter.com/3yGQaIyXVK

— Boca Juniors (@BocaJrsOficial) May 22, 2022
The Liga Profesional is just around the corner. Boca have been handed a huge boost in winning the Copa de la Liga. It's going to be a gigantic effort for Boca to challenge for the league, particularly as Racing, River and Estudiantes – who fell in the playoffs in one-off games, will be much stronger across a season where long-term form will be more decisive.