March is here and college basketball fans have plenty to be excited for. With the top six teams suffering road losses this past Saturday, it seems like any team could take this year's college basketball crown.
Why are the Conference Tournaments So Important? 
The way the selection process works is 68 teams either receive an automatic bid for winning their conference tournament or an at-large bid. Those receiving an at large-bid are teams who did not win their conference tournament, but the selection committee deems them as one of the best remaining 36 teams. The committee typically selects teams from the top college basketball conferences, like the ACC, Big 12, Big East, Big Ten, Pac-12 and SEC; this is why it is vitally important for teams from smaller conferences, like the Horizon League, to win their conference tournament.
The Horizon League consists of 12 teams and almost certainly none of them hold a good enough resumé to receive an at-large bid. So, whoever wins the Horizon League Tournament will likely be the sole Horizon League team heading to the NCAA Tournament.
Four spots in the semifinals in Indy are on the line in the 2022 @getkeeps #HLMBB Championship quarterfinals tonight!

Tune into @ESPNPlus at 7 p.m. ET.

🏀: https://t.co/BV9AJsMaOR#REACHtheHORIZON pic.twitter.com/aBC45lclSz

— Horizon League (@HorizonLeague) March 3, 2022
The first round of the Horizon League Tournament wrapped up on Tuesday night, leaving eight remaining. These remaining teams will face off tonight and potentially take one step closer to receiving a bid. Let's take a look at each of tonight's quarter-finals matchups.
#4 Wright State vs. #5 Oakland
Wright State beat Oakland in both of their matchups this season, but this doesn't mean you can count Oakland out. The Oakland Golden Grizzlies are led by co-Horizon League player of the year, Jamal Cain. The senior forward averages 20.0 PPG and 10.1 RPG and can defend nearly any position. Freshman forward Trey Townsend averages just over 1 block per game and they have the best turnover margin in the conference (+2.6). Oakland has the best FT percentage in the Horizon League at 79.1% and their average margin of victory is 6.4 points, second best in the conference. The Golden Grizzlies are certainly a tough-out and are my dark horse to win the conference championship.
Final Score of @getkeeps #HLMBB Championship First Round Game No. 3, presented by @TicketSmarter.@OaklandMBB 70, @IUPUIMensBBall 58#REACHtheHORIZON pic.twitter.com/2IaWVtlEuC

— Horizon League (@HorizonLeague) March 2, 2022
The Wright State Raiders have the upper-hand on Oakland regarding their previous matchups (Oakland hasn't beat Wright State on the road since 2016). The Raiders offense consists of a one-two punch in Tanner Holden and Grant Basile, who have the 2nd and 3rd most points in the Horizon League this season. The pair combined for 43 points in their most recent matchup against Oakland, while 6'0 guard added 10 points, 6 assists, 6 rebounds and 2 key steals to help seal the game. This matchup is sure to be a fun one.
#3 Northern Kentucky vs. #6 Detroit Mercy
Detroit won both contests against Northern Kentucky this year by eight and six points. They are led by the best scorer in the conference, Antoine Davis, who averages 24.2 PPG and dropped 38 against UW-Green Bay in the first round. Davis' supporting cast is average; they shoot 37.8% from three, which is the best in the Horizon League, however, they don't score in high volume. Their defense is pretty inconsistent, although they did hold Northern Kentucky to 52 points in their most recent matchup. If Detroit is going to get it done, it will likely fall on the shoulders of co-Horizon League player of the year, Antoine Davis.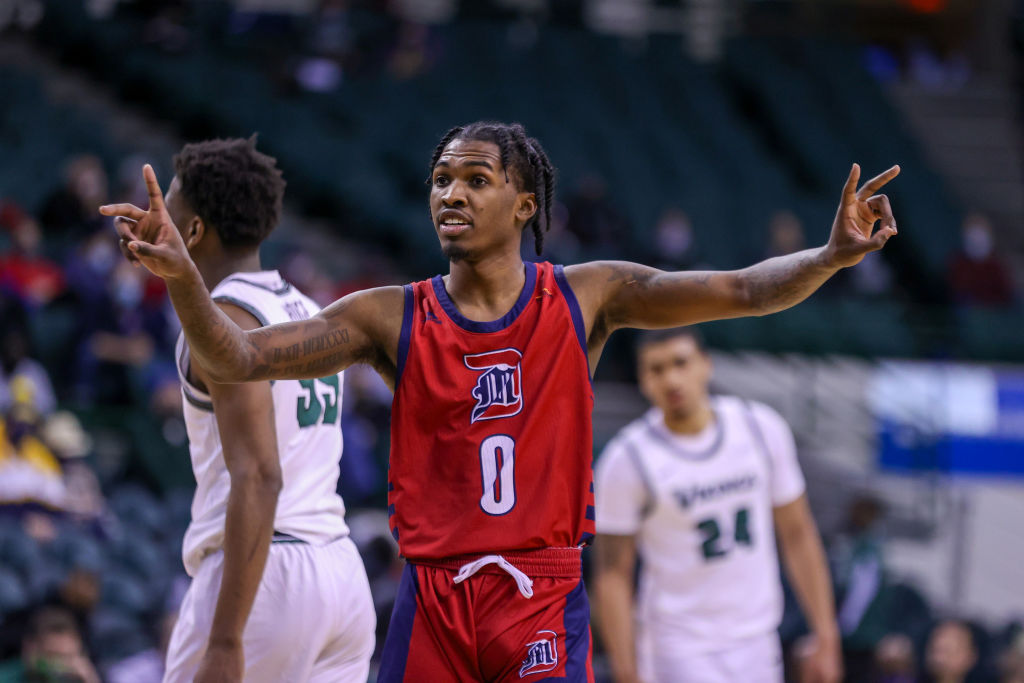 Northern Kentucky wins their games by doing the dirty work. They are 2nd in the conference in rebounds per game (1st in offensive rebounds) and lead the conference in steals per game with 9.2. They hold their opponents to an average of 65.8 points, which is the best in the conference. While their defense is rock solid, their offense and size is questionable. Led by sophomore guard Marques Warrick (16.0 PPG), Northern Kentucky only has 3 players who average over 10 PPG and none of them are over 6'5. They'll need to play to their defensive strengths in order to win on Thursday.
#2 Purdue Fort Wayne vs. #8 University of Illinois at Chicago (UIC)
These teams met once this season and Purdue Fort Wayne won by 7 points at home. They have great players at the guard position and this team shoots very well from three (37.6%). They lead the conference in forcing turnovers, averaging 15.8 forced turnovers per game. The last time these two teams met, 5'8 senior Damian Chong Qui scored 20 points while Jarred Godfrey had 17 points. Their lack of size could be an issue against a physical UIC team, but they're an experienced group who are looking to win their first Horizon League Championship since they joined the conference in 2020.
UIC is an explosive team who shows glimpses of being very good. Defensively, they lead the conference in blocks per game (3.8) and they clean the boards well, averaging 24.7 defensive rebounds per game. Despite this, they still have a negative rebounding margin (-2.0) and they give up the 2nd most points per game in the conference (72.8). A lot of their scoring comes from 6'3 junior guard, Franklin Damaria, who averages 18.0 PPG. This team is fun to watch, but they're far too inconsistent to be a bid-stealer and I don't see them defeating Purdue Fort Wayne on the road.
.@ballhard_3 shot 55% from the field, 50% from deep, and 88% from the line ‼️ pic.twitter.com/YhCk04OIaJ

— UIC Men's Basketball 🔥🏀 (@UIC_MBB) March 2, 2022
#1 Cleveland State vs. #10 Robert Morris
These teams had two close matchups this season, but Cleveland State came out on top both times. Cleveland State's offense is the best in the Horizon League; they average the most points per game and win by an average of 6.6 points, also the highest in the conference. They are led by senior guard, D'Moi Hodge, who averages 15.4 PPG and 2.3 steals per game, the most in the Horizon League. Although they lost their last two regular season games (not a great sign), they are still the favorite to repeat as Horizon League Champions.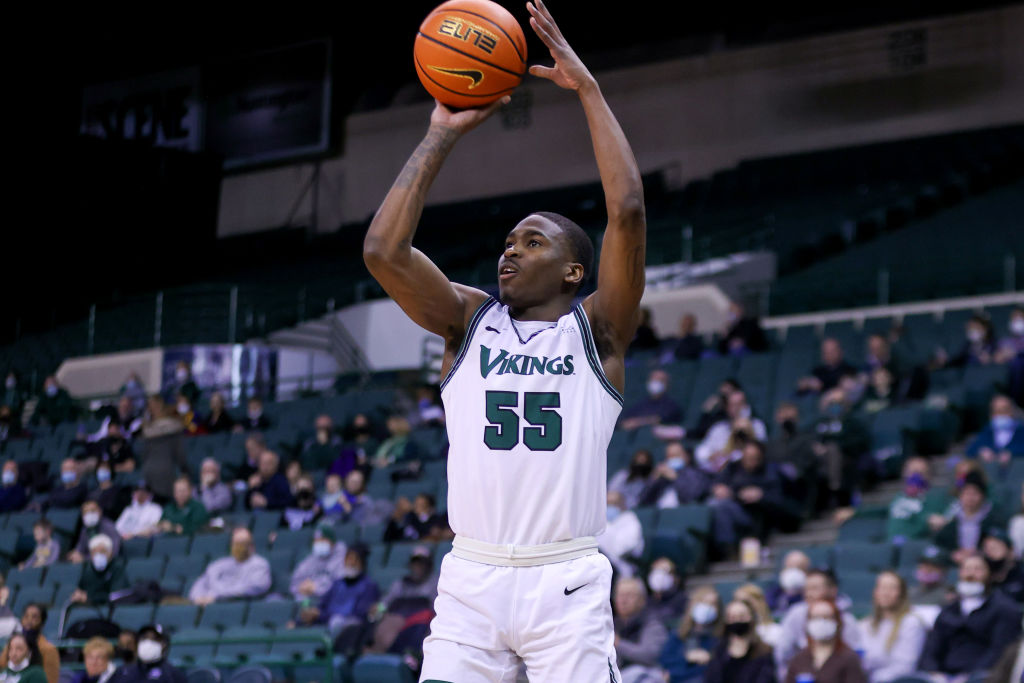 The Robert Morris Colonials won just 5 of their 21 conference games this year. On Tuesday night, they defeated Youngstown State by 4 points and five of their players had double-digit scoring affairs. Arguably their best player, Kahliel Spear, had just 4 points in their most recent game against Cleveland State. Robert Morris allows the most points per game in the conference (74.4). I never like to count a team out, but them winning the Horizon League Tournament would be nothing short of a miracle.