Dortmund II are going up
Borussia Dortmund II were crowned champions of the Regionalliga West division after they came from behind to  beat Wuppertaler 2-1 to win the title and secure promotion to the 3.Liga.
The Black & Yellows needed just a point to confirm promotion, but they did it the hard way and came from behind to win.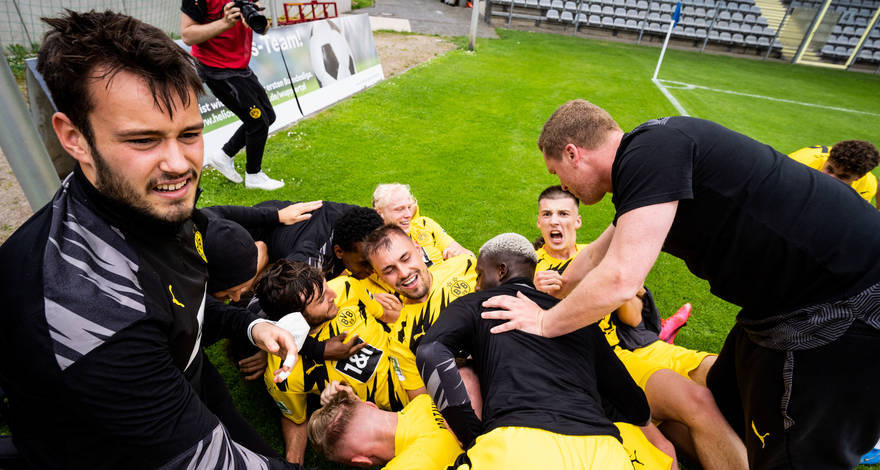 ---
First half
Both sides started brightly with Dortmund II nearly going ahead through Richmond Tachie, while Henri Weigelt was on hand to clear the ball off the line to prevent a Wuppertaler goal.
The hosts then started to pin Dortmund back and took the lead when a cross from the right was turned home by Kevin Hagemann in the 34th minute. Enrico Maasen's side were under the cosh and needed a comeback to prevent losing the title on the final day. Things almost got worse for BVB when Lars Bender struck the post.
But the league-leaders showed why they were set to be the champions and responded just two minutes after half-time. Tobias Raschl picked up on the ball on the centre circle and lofted a pass over to Stefen Tigges, who fired home from a tight angle to put the title in Dortmund's hands again.
---
Second half
Dortmund II were buoyed by the goal and dominated the second-half. RW Essen were winning so they knew they just needed a point to secure promotion, but another goal would allow them to relax. With six minutes remaining, Tigges thought he had scored the winner when he rounded the goalkeeper, but he struck the woodwork.
However, with just a minute remaining, Ansgat Knauff slotted home after he was set up by Dominik Wanner to spark scenes of joy and jubiliation from all the Dortmund players and coaches. The title was theirs, and it was secured with just a minute of normal time to go.
20/21 Regionalliga West Champions! 🏆pic.twitter.com/9Ck0z6BxY7

— Borussia Dortmund (@BlackYellow) June 5, 2021
---
RW Essen miss out on promotion
RW Essen's brilliant season ended in disappointment after they won 2-0 at FC Wegberg-Beeck but missed out on promotion following Dortmund's II's dramatic win.
Ein enger Kampf um die Tabellenspitze findet heute mit dem letzten Spieltag sein Ende. "Mit konstanten Leistungen haben beide Vereine das Duell lange aufrechterhalten. Als faire Sportsmänner gratulieren wir Borussia Dortmund trotz aller Rivalität", sagt RWE-Vorstand Marcus Uhlig. pic.twitter.com/nmzgGYLcMQ

— Rot-Weiss Essen (@rot_weiss_essen) June 5, 2021
The Esseners could only control their fate and they did their job by winning despite playing with 10 men for 77 minutes. Essen went ahead after a minute when Daniel Heber scored and just 10 minutes later, top-scorer Simon Engelmann pounced to make it 2-0.
But a red card for Oguzhan Kefkir changed the landscape for the game and the visitors had to play the majority of the game with 10 men. When Wuppertaler went ahead, RW Essen were champions. Dortmund II came back to win but it still was an excellent season for Christian Neidhart's men, who finished on 90 points with 27 wins.
He said: "I maintain that we have played a top season. To have got 90 points is sensational. But if you only finish second with 90 points, then that's extremely bitter. Of course we have to send congratulations to Dortmund, they got it 2-1 in Wuppertal."
On the future at RWE: "I believe that the cohesion within the association is very good. We have grown well together. With all the experiences we had in the season, the negative ones are also part of it. We have a good foundation. Now we have to take a breather, then we'll attack again next year with the fans."