After weeks of noise and rumour, Chelsea officially announced the signing of 18-year-old Chicago Fire goalkeeper Gabriel 'Gaga' Slonina yesterday. He joins on a six-year deal that sees him loaned back to Fire for the remainder of the 2022 MLS season.
But who is the US Men's National Team 'keeper, and what makes him so good? We used his Second Spectrum data to take a look.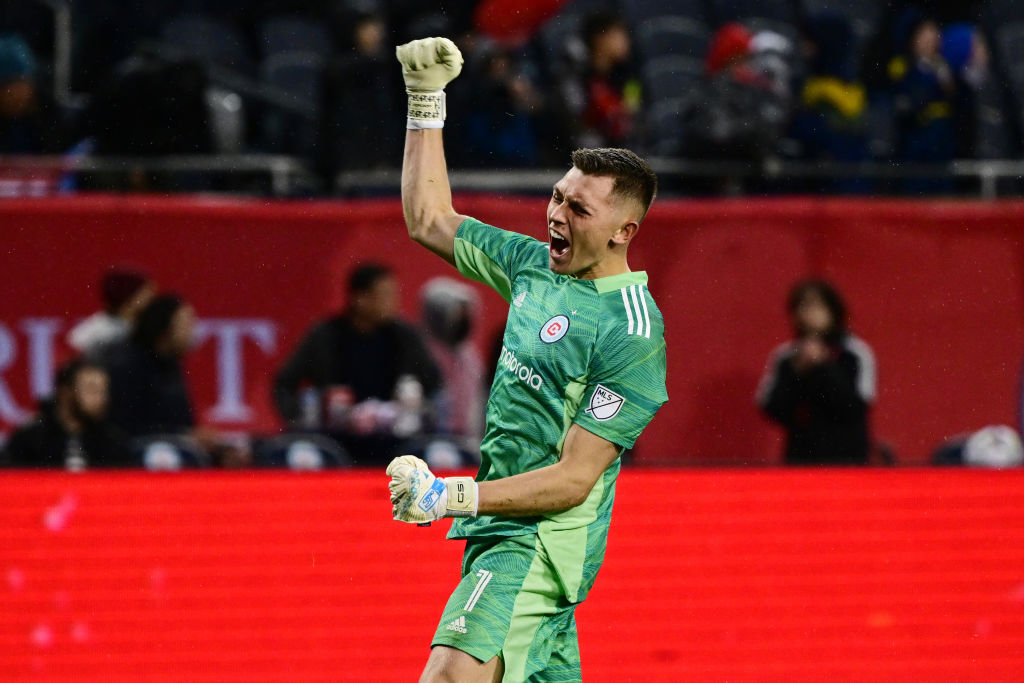 Slonina's shot-stopping prowess
At 17 years and 81 days old, Slonina became the youngest goalkeeper in the history of the MLS with his debut last season. His talent was immediately recognizable, particularly in the more traditional goalkeeping attributes.
This season, Slonina has had to marshal a defense that allows 11.35 shots per game on average (261 in total). He's faced a total of 73 shots on target (3.17 per game), making a staggering 46 saves.
Denied ❌@GabrielSlonina with the strong hand to keep it scoreless. pic.twitter.com/nXNZIPX3XN

— Major League Soccer (@MLS) July 30, 2022
For a goalkeeper in a team often out of possession and subject to attacks, these numbers are impressive. They're even more impressive when you account for the fact that he's conceded just one goal from outside the box.
Of the 46 saves he's made, 11 have come from outside the area. This means that Slonina has saved a staggering 35 shots from inside his own penalty area, some of which were at point blank range.
He's an instinctive shot-stopper, able to contort and adjust his body to a range of fast-paced scenarios. He's agile too, closing down angles with quick shuttles out to oncoming opponents.
What a save by @GabrielSlonina! 😱 pic.twitter.com/nzjqnx6UY8

— Major League Soccer (@MLS) June 26, 2022
The total conversion rate of efforts against Slonina is just 10.34%, which places him in the top third of all MLS goalkeepers.
Perhaps the most impressive element of Slonina's goalkeeping is his maturity in tight game situations. A flurry of double saves in the 86th and 87th minutes against Inter Miami were pivotal in keeping a clean sheet back in February – earning his team a valuable point.
A modern 'keeper
It's now customary for goalkeepers to be as competent with their feet as their hands. In that sense, Slonina is molded in the image of a modern 'keeper.
He's in regular contact with the ball, averaging around 29 touches per game. His passing range is also stand-out. He's completed 436 passes so far this season, with a completion percentage of 66.67%. While that second figure might seem low, there is an explanation.
Slonina is often the 'get-out-of-jail-free' option for defenders facing the press, which mostly leaves him with no choice but to send the ball into an area, or even out of play entirely. He's been forced to play at least 96 pressured passes so far this season. His average passing distance is just over 30 meters (32.76), and he's comfortable in clipping the ball into a wide player and beginning attacks.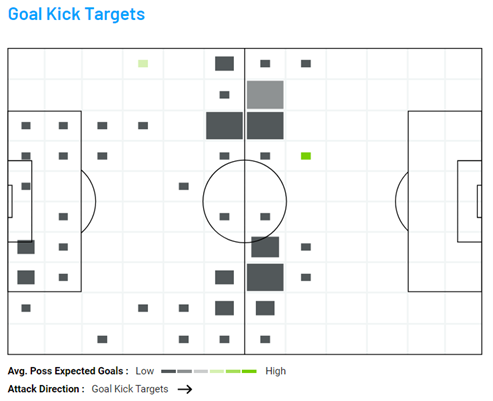 Diamond in the rough?
Chicago Fire did not start the 2022 MLS season well. After 15 games, they were sat joint-bottom of the Eastern Conference, with just three wins to their name. But their position in the table reflected little of Slonina's performances, and his recent flurry of clean sheets (3 in his last 4) has helped them climb to within touching distance of the playoffs.
GAGA YOU KING @GabrielSlonina pic.twitter.com/MupYWT70Ko

— Chicago Fire FC (@ChicagoFire) June 30, 2022
In fact, the 28 goals that Fire have conceded is above average; at least 21 other teams have conceded 28 or more across the MLS. On the other hand, their 24 goals scored is the second-lowest tally in the league, which means their attacking power, or lack of, has held them back.
Of the goals Slonina has conceded, 4 of those have been penalties, the third-most in the league. While you could argue that a goalkeeper sets the tone for his defense, it would be harsh to place the blame for those goals squarely at Slonina's feet.
Overall Verdict
Slonina has all the hallmarks of a great goalkeeper. He's dynamic in shot-stopping and more than comfortable on the ball. As ever with a young 'keeper, there are areas to improve and mistakes will come – they always do. Watching how he recovers from those mistakes will be indicative as to whether he will form into a good goalkeeper, or a great one.
Welcome to Chels, @GabrielSlonina! 😎 pic.twitter.com/95F9qsCfhX

— Chelsea FC (@ChelseaFC) August 2, 2022
Either way, his move to Chelsea tells you all you need to know about how people at the very top of the game rate his trajectory. With Kepa's future uncertain, the path to succeed Mendy as Chelsea's first-choice goalkeeper is right there for Slonina. We'll be watching how the rest of his MLS season with Chicago Fire unfolds.