Matchday 12 of Liga FUTVE saw the competition to gain a position in the top four edge ever tighter as only four points separate nine teams.
In the first matchup of the weekend, Metropolitanos had a comfortable 3-0 victory against Mineros de Guayana. The result underlines the terrible form that Mineros are in, having lost four of their last five matches and sitting 14th only above last place on goal difference.
There was also a top-of-the-table clash on the Friday. League leaders Puerto Cabello were held to a goalless draw with Deportivo Táchira, leaving both feeling underwhelmed with the result. Although Táchira were the happier of the two as Puerto Cabello had many more chances and possession to find a goal. Alejandro Araque was the star of the match for Deportivo Táchira.
The result means that Puerto Cabello still remain comfortably at the top of the standings with a 10-point lead.
Saturday opened with a duel at the foot of the table as Rayo Zuliano and Hermanos Colmenarez played out a 1-1 draw.
Later in the day, it was a battle for two sides aiming to get into the Copa Sudamericana places at the Misael Delgado Sports Centre between Carabobo & Deportivo La Guaira.
In a feisty affair that recorded five goals and two red cards, Carabobo won a highly entertaining encounter with a 94th-minute winner. Argentinian, Francisco Apaolaza popped up at the far post to make it 3-2.
Then the tension boiled over. With words exchanged and tempers flaring, Carlos Sosa was sent off for the home side, while Gelmin Rivas was also shown a red card for the visitors in the 97th minute.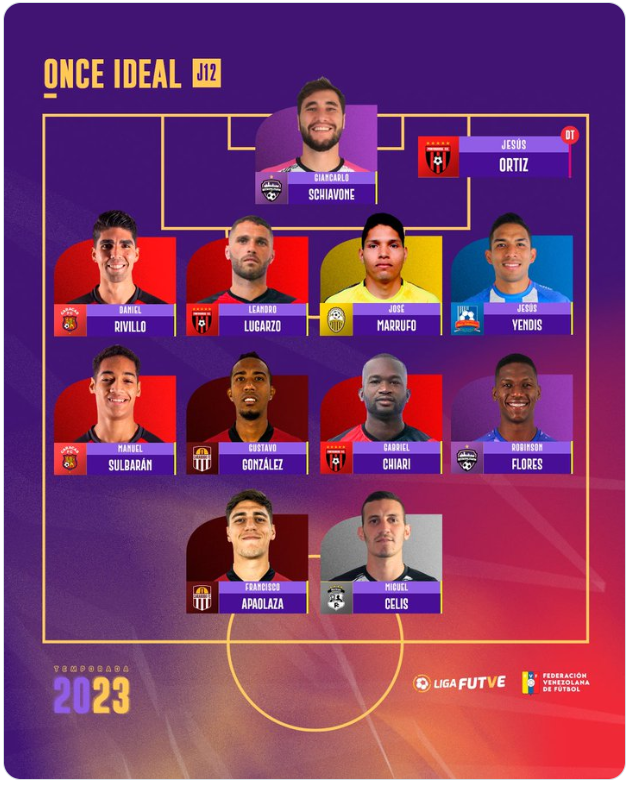 " El Classico Añejo"
Sunday kicked off with a spicy "El Clasico Añejo", as Estudiantes de Mérida played Portuguesa with the intention of recovering from three consecutive defeats.
The Clásico could not have got off to a better start, as after six minutes Gabriel Chiari, Portuguesa's striker, scored an amazing goal just a few metres past the halfway line to send fans and outsiders alike into raptures. The stunning attempt was enough to seal Victoria for the Acarigua side and leave Estudiantes staring at a fourth-straight defeat after such a positive start to the season.
Later, second-placed Caracas demolished Angostura 4-1. They are now level on points with arch-rivals, Deportivo Táchira and remain the only unbeaten team in the league this season.
The final game of the weekend saw another two basement teams fight for vital points. In the last play of the game, Miguel Celis scored to give Zamora a 1-0 win over Universidad Central.
The defeat meant that it's still only 1 win in 12 games for Universidad and unless they can turn things around quickly they are staring at relegation.
Standings