Alacranes bounce back
Group 1 leaders Alacranes de Durango responded to last week's disappointing defeat with a 2-1 win against U.A. Zacatecas.
Jonathan Osuna opened the scoring in the 13th minute, before Jordan de Lira added a second goal in the 54th minute.
#J15 | #2doTiempo | #TallerIndustrialMEGA

⏰ 54′ | #Alacranes 2-0 #UAZ |

¡G⚽️⚽️⚽️⚽️⚽️⚽️⚽️L!

Jordan de Lira #18 saca tremendo zapatazo y clava el segundo gol del partido.#JuntosXelASCENSO #PuroVeneno pic.twitter.com/T5UGCoZuWr

— Club Alacranes de Durango (@AlacranesdDGO) February 6, 2021
The visitors grabbed a consolation but Alacranes held on to win their fourth home win a row. They are still unbeaten at home and have taken 19 points from 21.
---
What it means
Alacranes are top of Group 1 in the Mexico Liga Premier with 34 points from 15 games. Zacatecas are fourth bottom, having lost three of their last four.
Tras 15 jornadas disputadas nuestro equipo continúa como líder del grupo uno con 34 unidades, 10 triunfos, 2 empates y 3 derrotas, 28 goles a favor y 12 goles en contra.#JuntosXelASCENSO#PuroVeneno pic.twitter.com/fnCHE9qvR7

— Club Alacranes de Durango (@AlacranesdDGO) February 9, 2021
Only one point separates the four sides from second to fifth.
---
Tight at the top
In second are Reboceros de La Piedad who got the better of Atletico Saltillo Soccer in a 4-2 penalty shoot out win after a 2-2 draw in normal time.
Marcador final #Saltillo 2 (2) vs #Reboceros 2 (4) Liga Premier FMF 💙⚽💛 @LigaPremier_FMF pic.twitter.com/H7EZSSgzNX

— Reboceros de La Piedad (@ReboLaPiedad) February 7, 2021
Saltillo took the lead after 10 minutes, but two goals from Luis Franco turned the game on its head. Three minutes before full time, Atletico Saltilo sent the match to penalties with a late equaliser.
However, Reboceros won the shootout to stay within four points of the top. They are ahead of both Mineros de Fresnillo and Colima on goal difference.
Mineros de Fresnillo won their sixth straight match (including two penalty shootouts). They beat Colima 2-1 to leapfrog their rivals into third.
---
Cruz Azul drop points but still lead Group 2
In Group 2, Cruz Azul Hidalgo still have a healthy lead at the top despite drawing 1-1 against Inter Playa del Carmen.
They have won 10 of their 15 games and have a three-point lead with a game in hand. Cruz Azul have conceded just nine goals in their 15 matches.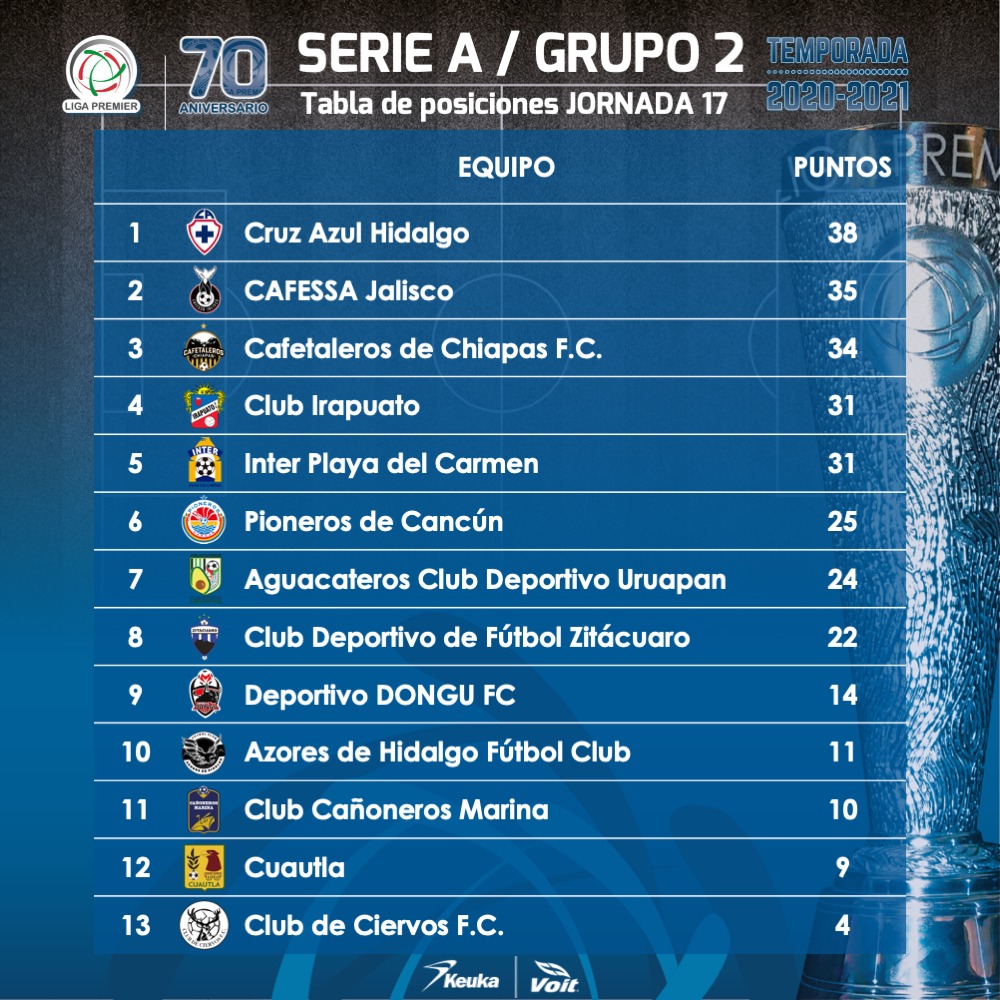 ---
Mixed results for challengers
Cafessa were unable to capitalise on their rivals dropping points as they were beaten 2-0 by Azores de Hidalgo.
Cafetaleros de Chiapas II were the only side in the top four to win. They closed the gap on the top two to win their second successive match on penalties after a 2-2 draw against Zitacuaro.
They sit third in the table and four points off the top but have played a game more.
🏔 #ZITvsCAF ☕️

J17 | @LigaPremier_FMF

Nos llevamos 2️⃣ puntos a casa. 💪🏻
¡Seguimos sumando! 🔥#VamosXElAscenso pic.twitter.com/El9KcS6wlv

— Cafetaleros de Chiapas (@Cafetaleros_Ch) February 6, 2021