Tolima and Millonarios continue their remarkable fight for the top spot in Liga Dimayor, after both teams recorded important victories in their last two games. Atlético Nacional take a point from city rivals Independiente de Medellín to register three draws in their last three matches. Elsewhere, Junior de Barranquilla picked up a win that secured 4th spot.
Tolima achieving the perfect results at the perfect time
Tolima not only won with seven young players from the academy last week in the Liga Dimayor, but also defeated Brazilian side América MG by three goals to two in the Copa Libertadores 2-3. It was a much-needed win for Tolima, who can still qualify.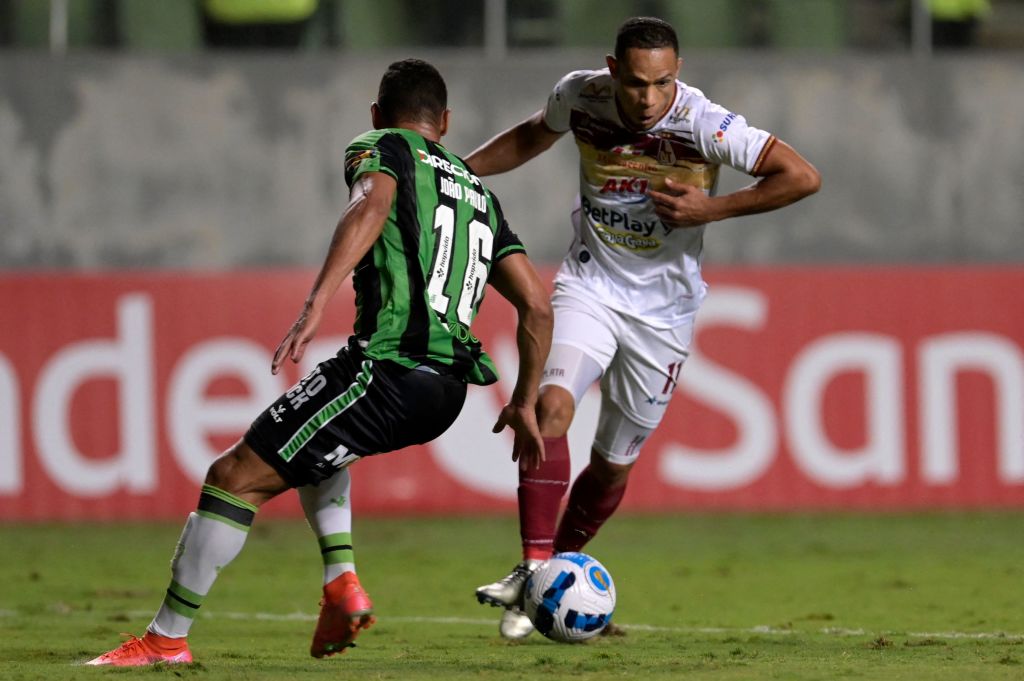 At the weekend, they recorded another 3-2 victory – this time over Cortuluá – to sit in first place.
Ureña, Caicedo and Michael Rangel gave Tolima an early 3-0 lead, but Ruiz and Juan Manuel Valencia, in the final six minutes gave the home side a nervous finish. The score remained 3-2.
¡Victoria del PIJAO! ➕3️⃣

| TOL 3-2 COR | pic.twitter.com/75DbEOIQL0

— Club Deportes Tolima S.A ⭐️⭐️⭐️ (@cdtolima) May 1, 2022
Tolima have now achieved 38 from a possible 54 points, with 12 wins, two draws and four defeats. Cortuluá, on the other hand, have lost their last eight games and sit second-from-bottom, on 17 points.
Tolima in numbers
Tolima don't just lead the league in points, but also in goals scored – with 28. A total of 11 players have contributed goals this season – over a third of the entire team.
Millonarios victorious in visit to Tuluá 
The team in second (only by goal difference), recorded a 1-2 away victory over Patriotas at the weekend. Millonarios scored just before the end of the first half – Carlos Andrés Gómez picking up a rebound inside the area.
Diego Herazo put them 2-0 up in the 64th minute, but just six minutes later Barrios added a goal for the home side.
Patriotas maintained the pressure and looked for an equalizer. It looked like it might arrive when a penalty was awarded, only for VAR to spare the blushes of The Blues. It ended 2-1, brigning Millonarios their 12th victory of the tournament.
90' ¡Tunja y los 3 puntos son azules! 💙🏟⚽️🔝

Goles de Gómez y Herazo para traernos los 3 puntos de La Independencia que se vistió de azul y blanco. ¡VAMOS MILLONARIOS! pic.twitter.com/E5GRoeD6Wh

— Millonarios FC (@MillosFCoficial) May 1, 2022
Aguilas Doradas adding pressure with the chasing pack
Aguilas Doradas completed a three-game winning run at the weekend, with three goals scored and three clean sheets. It places them on 24 points, just two points from the Top 8 qualifying teams.
Already-eliminated Deportivo Pasto traveled to Rionegro in search of a win. Anthony Arcila's 84th minute strike for Aguilas awarded them their 7th victory of the season and keeps their hopes alive of qualifying for the quadrangular tournament and a chance to win the Liga Dimayor.
¡Ganó em casa!

Águilas Doradas derrotó 1-0 a Deportivo Pasto en la fecha 18 de la liga colombiana. pic.twitter.com/RFeUFrHbLy

— ESPN Colombia (@ESPNColombia) May 3, 2022
Friendly Clásico Paisa
The Clásico Paisa between Atlético Nacional and Independiente Medellín ended in a 0-0 draw.
Nacional's Giovanni Moreno was sent off on the 56th minute, reducing them to 10 men for most of the second half. If that wasn't enough, just nine minutes later Dorlán Pabón also saw red, reducing Nacional to 9 men. Given the context, they will certainly be the happier of the two teams that they managed to still salvage a draw. It represents a third clean sheet in a row for Nacional.
A look at the table and what remains in the Liga Dimayor:
Así quedó la tabla de posiciones, luego de finalizar la fecha 18 de la Liga BetPlay 2022 pic.twitter.com/xgarutEsXO

— ☆ (@DAVIDINFORMA752) May 3, 2022
With just two rounds to play, we've already seen four teams qualify for the quadrangular tournament. This means that the focus shifts to the remaining four places. Just two points separate 7th place La Equidad and 12th place Aguilas.
This weekend also sees the top two go head-to-head, as Millonarios host Tolima in Bogotá. The home side haven't beaten Tolima in any of their last 12 matches. This will be one to watch.
🔜 Próximo partido
🏆 Liga 2022.1
⚽️ Fecha 19
🆚 Deportes Tolima
📆 Domingo 8 de mayo
⏱ 6:10pm
🏟 Estadio El Campín
💻 WinSports+
🎫 https://t.co/yl0Tpw1IqC

¡Todos unidos por el liderato! ¡VAMOS MILLONARIOS! Ⓜ️🔝 pic.twitter.com/bLCDZ08Zpz

— Millonarios FC (@MillosFCoficial) May 2, 2022