In our next focus of Middle East and Asian football we take a look at the Oman Professional Football League.
The Oman Professional League or to give it it's current tile, the Omantel Elite League, is the highest division of the Oman Football Association.
Originally created in 1976, the league falls under the AFC Confederation and teams can compete in the AFC Champions League if they qualify.
The current iteration of the top league in Oman as the 'Professional League' began in 2013/14.
Current Champions
Al Nahda won the title in 2022/23 and with it the fourth in their history and their first since 2013/14.
The Contenders
The top teams that regularly compete for the title in Oman are Al Nahda, Al Nasr, Fanja, Dhorfar and more recently Al-Seeb.
2023/24 Schedule and Teams
The league will run from 20th August 2023 to May 2024.
The 12 team league currently consists of the following teams:
Al Nahda
Al Nasr
Al Rustaq
Al Seeb
Al Shabab
Al Wahda
Bahla
Dhofar
Ibri
Oman Club
Sohar
Sur Club
Current Results and Standings
Sohar and Al Nahda are early season pace setters. After three games they both have seven points.
Five teams are yet to be beaten. Joining Sohar and Al Nahda without a loss include Al Seeb, Sur Club and Al-Rustaq.
In the latest set of fixtures, Sohar continued their fine start to the season with a convincing 3-0 victory over historic Oman club Dhofar. Daniel Etor scored his first two goals for Sohar after joining from Sur Club in the summer.
The pick of the games was a 3-3 draw between Sur Slub and Al-Wahda. It was truly a tale of two halves. Al-Wahda scored 3 quick goals to take a convincing lead after only half an hour. However, Sur Clubs resistance paid off. After getting a goal back in the 71st minute, they scored another two injury time winners to complete an astonishing comeback.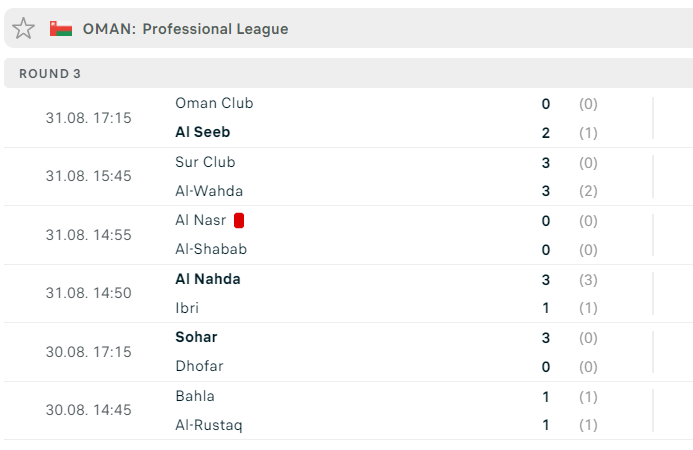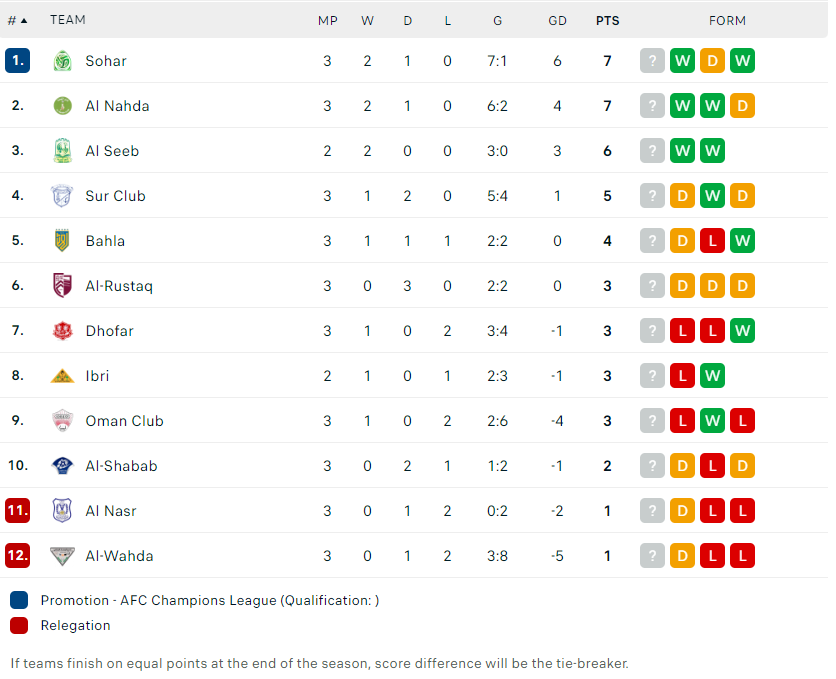 The Playbook is powered by Genius Sports and will feature regular updates of the Oman Professional League.