The Ethiopia Premier League is the pinnacle of professional football in Ethiopia.
16 teams engage in a round-robin tournament under the administration of the Ethiopian Football Federation.
Established in 1944, this league stands as one of Africa's oldest and most respected football competitions.
In the 2022/23 season, St. George clinched their 30th title, solidifying their status as the reigning force in Ethiopian football.
Players to watch
This league has nurtured numerous formidable players, such as Getaneh Kebede, Saladin Said, Shimeles Bekele, and Adane Girma, all of whom have proudly represented Ethiopia on international stages.
Moreover, players like Yussuf Saleh and Fuad Ibrahim have demonstrated their talents beyond Ethiopia by competing in various countries, including Sweden, Cyprus, the US, and Canada.
Additionally, the league serves as a platform for foreign talents from neighbouring countries like Kenya, Uganda, and Sudan to showcase their skills.
Top teams
Known for its fierce competition and captivating matches, the league boasts fervent fan bases.
Support reigns heavy for teams such as St. George, Ethiopia Bunna, Defence Force and Fasil Kenema.
Notably, a significant rivalry between St. George and Ethiopia Bunna, both based in the capital city of Addis Ababa, adds an element of intrigue to their matches.
Latest results and fixtures
Currently in the midst of the 2023/24 season, which commenced on October 1st, 2023, and will conclude in May, the league has already witnessed unexpected outcomes and promising performances from various teams.
Here are the latest results and fixtures from round four of the Ethiopia Premier League, held between October 25th and 27th:
Bahir Dar Kenema demonstrated their resurgence by securing a convincing 3-0 victory over Wolkite Ketema, building momentum after a disappointing opening game of the season. With two wins and a draw from three games, they are determined to close the gap on early leaders St. George.
Ethiopia Nigd Bank maintained their unbeaten streak in the league by securing a 3-2 victory against Dire Dawa. Two quick goals within eight minutes made the away side's triumph relatively comfortable.
Champions and current league leaders, St. George, face Adama City on Friday, October 27th. They will look to preserve their 100% win record at the start of the season.
Latest standings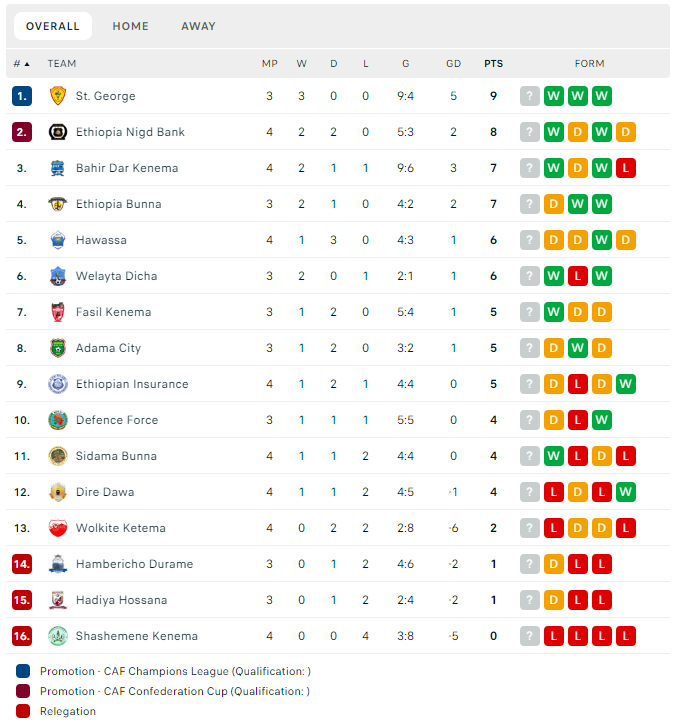 The Playbook is powered by Genius Sports and will provide regular updates of the Ethiopia Premier League throughout the 2023-24 season.