There was nothing bigger than the Superclásico in Fecha 7 & 8 but there were other crazy stories including Racing maintaining their unbeaten run, Barracus Central making it three wins from three, late drama in the La Plata derby and even a grenade exploding on the pitch in the clásico Rosarino.
Fecha 6
Racing keep on running
Racing – the only side yet to lose a match in the Copa de la Liga this season – continued their impressive start to the season with an assertive victory over Atlético Tucumán at the Estadio José Fierro.
Fernando Gago's side took the lead on the 20th minute as Leonel Miranda's great lofted pass found Facundo Mura who slipped the ball past Dante Nicolás Campisi. Carlos Alvarez made it 2-0 with an incredible free-kick from nearly 30 yards.
¡Buen día, Racing! 👋

📽️ 🔙 Reviví los goles ⚽ y el triunfo de Racing 🎓 por 4 a 0 a Atlético Tucumán.
▶️ https://t.co/0RBhceIvhe

¿Cuál fue el gol que más gritaste? 🗣️⚽ pic.twitter.com/r3CTWnDjDl

— Racing Club (@RacingClub) March 15, 2022
A fantastic bit of counter attacking play which started from La Academia defending a corner was finished off by Miranda on the 66th minute. Jonathan David Gómez came off the bench and found fellow substitute Mauricio Martínez whose finish completed the 4-0 drubbing.
Gago would be proud of his team's performance as they made the most of their 71% possession and 650 passes in a very one-sided victory.
Fecha 7
Boca spoil River's party
There was an incredible atmosphere for the Superclásico at the Monumental. However, River's players could not delight their fans in a frustrating match for Marcelo Gallardo's side.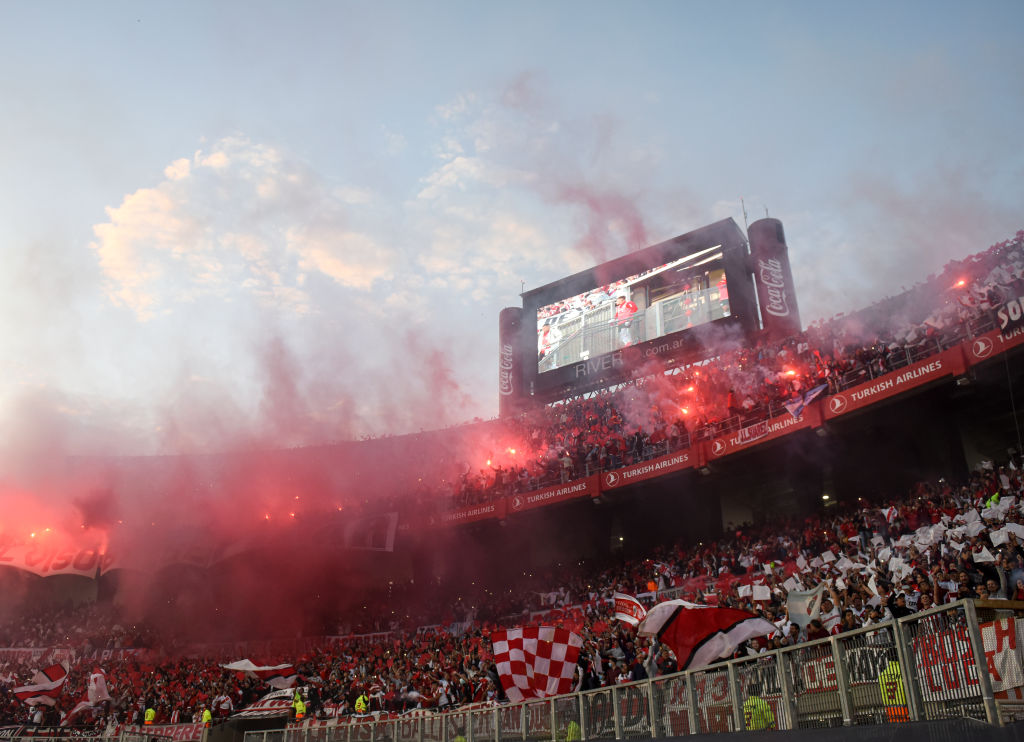 Los Millonarios had the better of the first-half but Julián Álvarez, whose dribbling was causing problems for the Boca defence, missed two good chances. Ezequil Barco also fired an effort straight at goalkeeper Agustín Rossi.
On the 54th minute a mix up at the back between Franco Armani and Leandro González Pírez allowed Sebastian Villa to latch onto the ball and roll it into an empty net.
¡GOL DE BOCA! El mejor de Boca siempre, Villa se aviva cuando todos duermen y pone el 1-0. Gana Boca en el Videla.#MiraloEnBocaTV. pic.twitter.com/7iAKcz6PWS

— Boca TV Play (@BocaTVPlay) March 20, 2022
Rossi was soon called into action to defend the lead denying Carlos Zambrano from deflecting it into his own net, fantastically saving with his feet to deny Álvarez again and pushing out Juan Fernando Quintero's free-kick.
Enzo Fernández fired a shot which agonisingly came off the crossbar. Soon after Boca nearly got their second after Julian Edgaro Ramirez's great run and shot was saved by Armani into the path of Óscar Romero who looked certain to score but his poor effort was hooked away by González Pírez.
The final chance fell to Agustín Palavecino but his header was miraculously tipped over by Rossi. The Xeneizes players celebrated fanatically after the full-time whistle went for their 1-0 victory.
🗣 ¡¡¡VAMOOO'!!! 💪

⚽️🔵🟡🔵 pic.twitter.com/xlEVJlMpsA

— Boca Juniors (@BocaJrsOficial) March 21, 2022
A match which easily could have gone the other was if not for the brilliance of Rossi who prevented River from taking advantage of their 64% possession and 16 shots with 8 on target when  Sebastián Battaglia side had just 6 shots with 2 on target.
Independiente pipped at the post by Racing
Fernando Gago's Racing kept up their unbeaten run with a derby victory over Independiente in the Avellaneda derby at the Estadio Libertadores de América.
La Academia got off the mark in just the 3rd minute after Tomás Chancalay's impressive dribble resulted in his shot hitting the post but being turned in by Gabriel Hauche.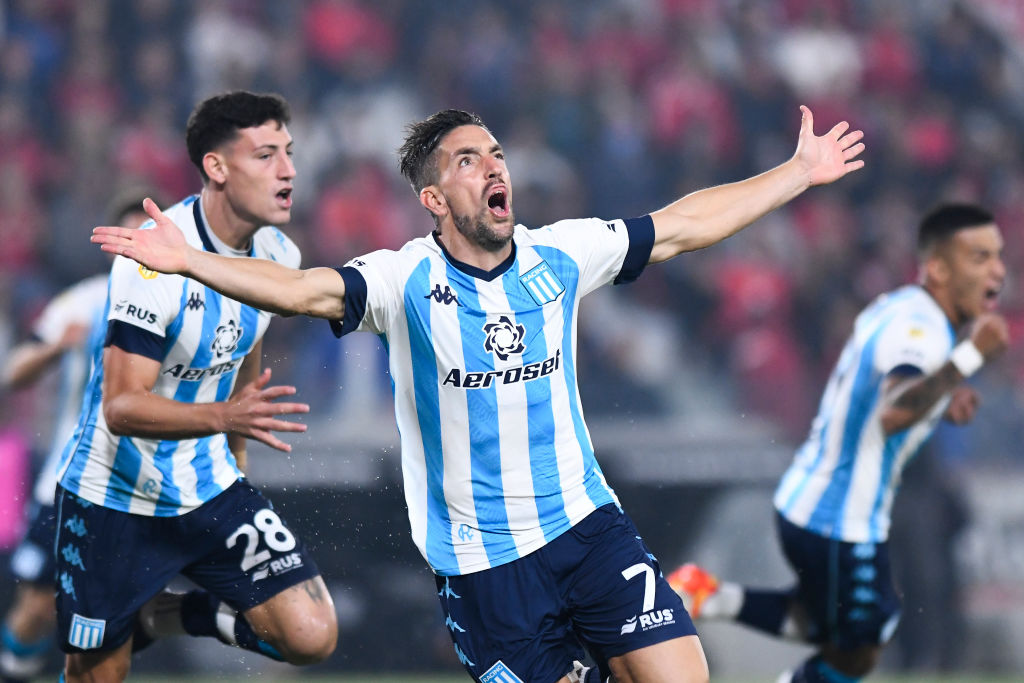 Independiente were not afraid to shoot from range and Lucas González levelled the score on the 56th minute with a thunderbolt of a strike which went in off the post. Leandro Benegas hit the post soon after with another powerful effort.
Gastón Gómez made some fine saves to deny Alan Soñora and and Benegas giving El Rojo the lead. Despite these chances on the 86th minute Gonzalo Piovi's cross was flicked on by Facundo Mura to Enzo Copetti who snuck his finish into the bottom corner to give Racing a 2-1 win.
Gritar el gol ⚽ de Copetti 🎓 nivel Lolo 💙

¿Con quién te abrazaste en el gol?⚽💪

¡VAMOS RACING! pic.twitter.com/34b6JotK5H

— Racing Club (@RacingClub) March 20, 2022
Independiente would have regretted not scoring from their 18 shots with 6 on target.  But as we have seen a lot with Gago's side this season, they take their chances and from their 11 shots with 5 on target they scored one more to win the game in the most important statistic.
Gimnasia punish Estudiantes
There was late drama in the La Plata derby as Gimnasia rescued a point against Estudiantes. Los Pincharratas had been leading from the 43rd minute when Leonardo Gody fired in from close range.
However, a dreadful goalkeeping error by Mariano Andújar allowed Benjamín Domínguez's long range shot to squirm under him for Eric Ramírez to tap in to claim a 1-1 draw on the 96th minute.
THIS IS ARGENTINA ⚽️🇦🇷

A 90th equaliser for @gimnasiaoficial 🐺pic.twitter.com/9UsHyk8XNl

— Liga Profesional Eng (@LigaAFA_Eng) March 20, 2022
El Lobo deserved at least a point from a match where they had 19 shots with 7 on target compared to Estudiantes who had just 8 shots with 3 on target.
Berti got Barracus bouncing
Since Alfredo Berti has taken over at Barracus Central they have had a remarkable turnaround of fortune and beat Sarmiento to make it three wins in their last three games.
El Patrón took the lead on the 58th minute as Javier Toledo headed in from a Julián Chicco corner. Berti's side responded brilliantly levelling the score on the 66th minute as Facundo Mater's cross found Neri Bandiera whose header found the net.
Bandiera then turned provider as he set up Nicolás Ferreyra who gave Baraqueños the lead with another headed goal. Any hopes Sarmiento had of getting back into the game were dashed when Federico Andueza was sent off on the 86th minute.
Barracus managed to hang on to win 2-1 which puts the promoted side up to 7th in Group B.
Grenade thrown on pitch in Rosario derby
Kick-off was delayed at the Estadio Gigante de Arroyito for the fixture between Rosario Central and Newell's Old Boys as a grenade blew up on the pitch. However, despite this shocking incident and after the turf was patched up, the game was allowed to go ahead.
As for the match itself, Newell's won 1-0 thanks to a goal that was bundled in by Juan Manuel Garcia. The Newell's players celebrating the goal had to be defended by riot police holding up their shields to stop objects thrown from the stands hitting them.