It's last call for the NCAA college basketball regular season, and some teams are soon to go home. Many of the bigger conferences conclude their regular season schedules and teams are getting in their last rounds before March Madness. The true charm of the tournament – the smaller leagues getting their chance on the big stage – is already in motion as many conference tournaments have begun. Let's take a look at the games this weekend (five and a bonus!) that will shape the tournament as the lights go out on the regular season. 
Rankings are curated from the NCAA's NET with NCAA LiveStats data, powered by Genius Sports. Records and rankings accurate as of Friday. 
The men's games to watch out for this weekend…
(25) Alabama at (16) LSU, Saturday at noon ET 
This is a big rivalry game loaded with talent, the perfect watch to start a weekend. Both teams are projected squarely in the field, but the result of this game could shake up the SEC Tournament seedings. An LSU win at home would make both teams 9-9 in conference play. There's a six-team group right at .500 in the SEC all battling for position. Expect this game to be up and down and high-scoring – both teams are in the top 40 in fastest average possession length. Alabama shoots the ball within 15 seconds on average, ranking as the 11th-fastest team in the nation.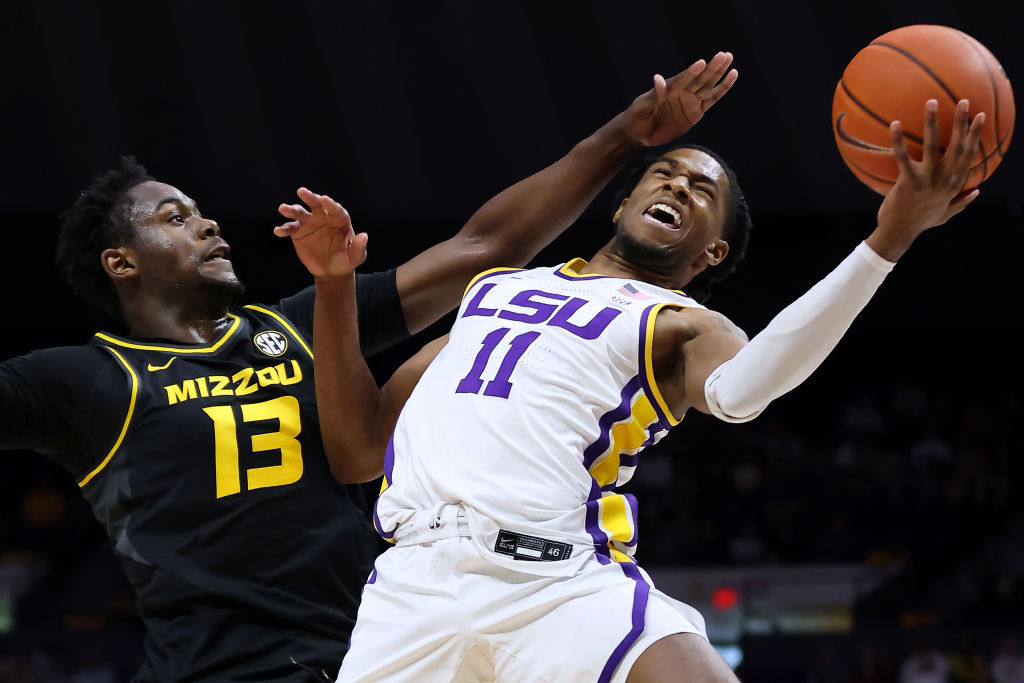 (45) Indiana at (13) Purdue, Saturday at 2 ET 
This rival game couldn't be a bigger one for Indiana (18-11). IU is firmly on the bubble and its loss to Rutgers at home earlier this week was not ideal. IU beat Purdue (24-6) at home earlier this season and has proven to be a tough out in Assembly Hall. However, this game is at Purdue and the Boilermakers want revenge. Purdue is elite in all offensive metrics and efficiency-wise is the best team in the nation. However, the Boilers are ranked 100th defensively. Indiana is playing for its life and Purdue is trying to fine tune.  
(15) Texas at (8) Kansas, Saturday at 4 ET
Kansas (23-6) is at home and playing for a potential No. 1 seed. Fans watching this game should expect to see a top-shelf effort from Kansas, which can also win a share of the Big 12 regular season title with Baylor. Statistically, Kansas resembles Purdue. Elite offense (4th nationally) and a step slow on defense. Although, KU is 40th in defensive efficiency, 60 spots better than Purdue.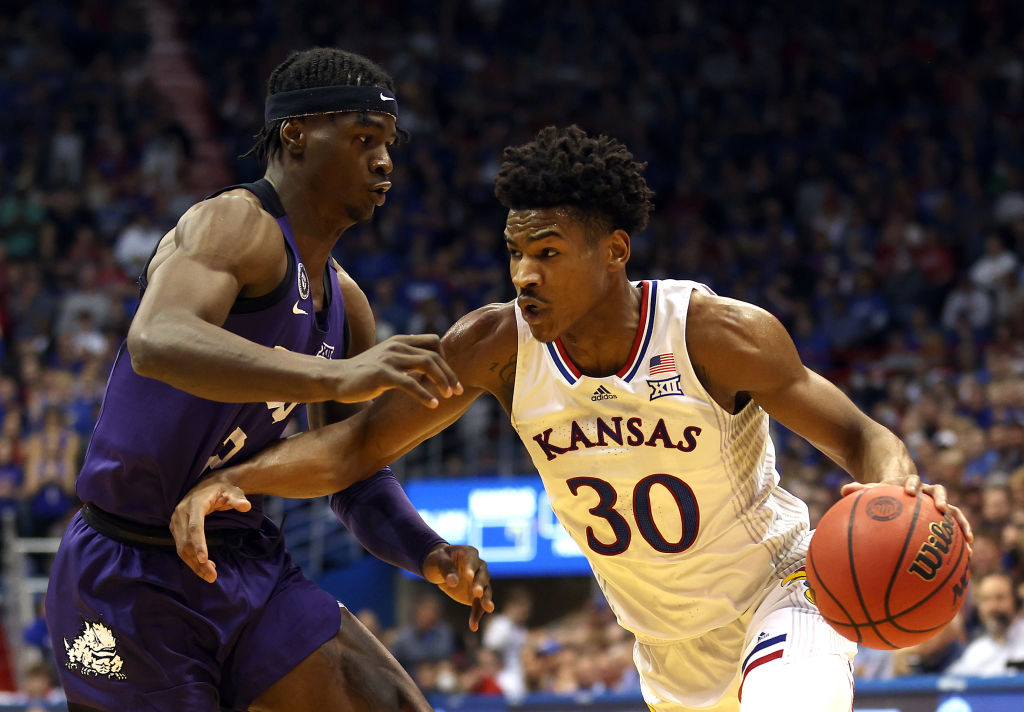 (40) North Carolina at (6) Duke, Saturday at 6 p.m. ET 
Coach K's last game at Cameron Indoor Stadium. There's been no shortage of coverage and tributes for the game's greatest coach. And to boot, it's against a bitter rival as Duke (26-4) continues to shoot for a top seed. Coach K's squad has clinched the ACC regular season, oddly for the first time since 2010. Fans will remember that Duke team, which went on to win the national title. This Duke team is in the top 20 in both offensive (5th) and defensive (19th) efficiency, which means it could be good enough to win it all. 
The last Big Dance #CoachK 🐐 👀 pic.twitter.com/RqEcuslGfS

— Duke Men's Basketball (@DukeMBB) March 3, 2022
Big South Championship in Charlotte, N.C., Sunday at noon ET 
The winner of this game has the distinction of being the very first team into the NCAA Tournament bracket. The top seed in this tournament is Longwood, which has had a remarkable 23-6 season after 12 straight losing seasons. If Longwood does some good dancing this month, it'll be a huge story and they'll make a lot of fans. Prime Suspects: Longwood, Winthrop, Gardner-Webb.
And one! Here's a bonus game for college hoops junkies that may have some March Madness implications. 
Missouri Valley Championship in St. Louis, Mo., Sunday at 2 p.m. ET 
The Valley has a long and storied conference tournament dubbed "Arch Madness" in St. Louis. The MVC has long played its tourney early to be able to air its final nationwide on CBS. Whoever makes it through the weekend will have a chance to make some noise in the tournament. Prime Suspects: Northern Iowa, Loyola Chicago, Drake, Missouri State 
The pick of the women's games this weekend…
There's a full slate of women's basketball championship games this weekend, as many of the biggest conferences host their finals on Sunday. The best teams in the country will be playing for championships this weekend – there's nothing better. 
Rankings are the team's NCAA NET, with data collection provided by NCAA LiveStats by Genius Sports. Records and rankings accurate as of Friday. 
(70) Marquette at (45) DePaul, Saturday at 2:30 ET 
Here are two teams battling for their tournament lives. DePaul (22-9) is firmly on the bubble and needs to hold serve at home. Marquette (20-9) has had a nice season and could actually catch DePaul in the conference standings with a win. DePaul is a strong offensive team that takes care of the ball despite being the national leader in fast break scoring. However, the defense hasn't always been there. Expect this game to be high-scoring.  
Much love to our Blue Demon family for sending us off to Connecticut in style! 💙#DePaulBall x #BEtourney pic.twitter.com/opewiCER66

— DePaul Women's Basketball (@DePaulWBBHoops) March 3, 2022
ACC Championship in Greensboro, N.C., Sunday at noon ET  
Both Louisville (25-3) and North Carolina State (26-3) are in the for No. 1 seeds in the tourney, and if those two teams face off on Sunday it'll be fierce. Those two teams have been atop the ACC all year, with Notre Dame (21-7) and North Carolina (23-5) also having strong seasons. But this looks like a two-horse race, between two of the nation's top teams. Prime Suspects: North Carolina State, Louisville, North Carolina.
SEC Championship in Nashville, Tenn., Sunday at 2 p.m. ET 
The nation's deepest league, featuring the nation's best team, hosts its final Sunday. It's likely South Carolina (27-1) will be there, probably with one of LSU, Tennessee, Ole Miss or Florida. Teams that need to make some noise to have a tourney chance: Missouri, Arkansas, Kentucky.
Sun Belt Championship in Pensacola, Fla., Sunday at 3 p.m. ET 
This should be an interesting tournament, on and off the playing floor. The top story for us is who will be statting the game using Genius Sports's NCAA LiveStats, an all-female stats team that is teaming together to work all 22 men's and women's tournament games for the Sun Belt.  
It's an all-female stats crew in Pensacola for the @SunBelt Men's and Women's Basketball Championships. They are looking forward to inputting all 22 games in NCAA Live Stats. Follow the tournament on https://t.co/I729LOWz9Q#WomensHistoryMonth pic.twitter.com/wTNsa9Z0NT

— The Scorer's Table (@ScorersTableTST) March 3, 2022
Big Ten Championship in Indianapolis, Ind., Sunday at 4 p.m. ET 
You have to be really, really good to get through the Big Ten bracket to Sunday. Michigan (22-5) has gotten a lot of attention and has been highly-ranked all season. Indiana (20-7) has touched the top five and Iowa's Caitlin Clark remains the most exciting player in the sport. But it was actually Ohio State (22-5) who tied for the Big Ten regular season title and held the tie-breaker for the top conference tourney seed.  Prime Suspects: Michigan, Ohio State, Indiana, Iowa  
And one! Here's a bonus game to keep an eye on, one off the beaten path but this Sunday these teams will be on a big stage. 
Big South Championship in Charlotte, N.C., Sunday at 8:30 p.m. ET 
Shoutout to the Big South for maneuvering its women's final into Sunday primetime TV. Cap off the weekend watching two teams play for a chance of a lifetime.  Prime Suspects: Campbell, Longwood, USC Upstate, Gardner-Webb.