Blumenau edge past Sampaio
KTO Blumenau defeated Sampaio Basquet 65-63 to take a 1-0 lead in the three-match semi-final series.
An outstanding performance from Cacá for Blumenau, scoring 17 points, eight assists and six rebounds was the decisive factor in a hard-fought and close encounter.
Vitória scored 13 points, while Luana and Kawanni both made nine points for the hosts.
For Sampaio, Débora was once again their shining light, scoring 11 points and making nine assists and nine rebounds.
PLACAR FINAL!@BlumenauBFB 6️⃣5️⃣x6️⃣3️⃣ @SampaioBasket

BLU lidera a série 1-0

Jogo acirradíssimo no sul e o KTO/Blumenau sai na frente, com grande atuação da MVP Cacá!

📸 Vitor Bett #LevanteABolaDelas pic.twitter.com/bqPwmBrOV6

— Liga de Basquete Feminino (@LBF_Oficial) August 1, 2021
---
Ituano Basquete one match away from the final
In the other semi-final, Ituano Basquete put in a brilliant performance to comfortably defeat Vera Cruz Campinas 92-78.
With 29 points, Alana registered her highest score of the season, as well as recording six rebounds and five assists.
Below is a shot chart showing how prolific she was with her three-point throws, scoring six from eight attempts, from all areas of the court.
Shot chart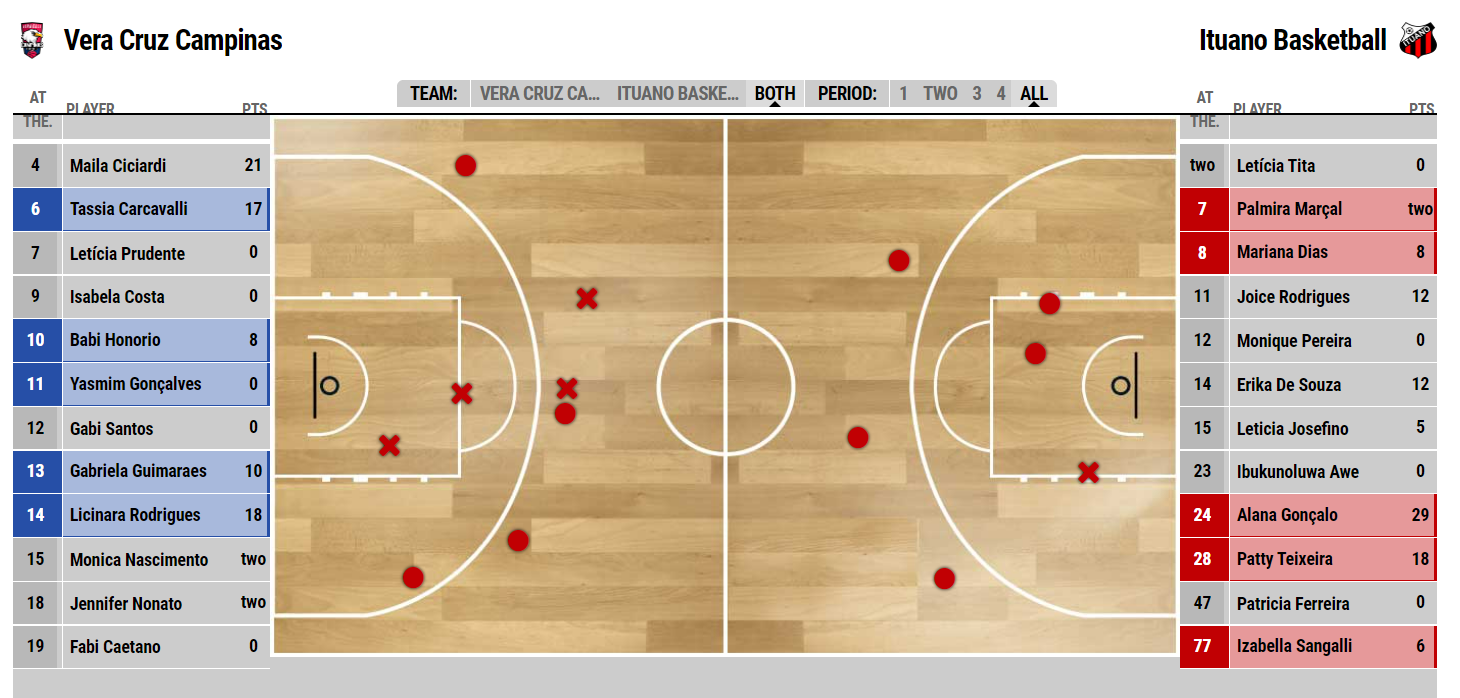 ---
🔥 @GoncaloAlana1 🔥 foi decisiva e incendiou o jogo em Campinas! Recorde pessoal de pontos na temporada, cestinha do jogo com 64% de aproveitamento geral, 6/8 nas bolas de 3 pts e MVP @voegoloficial deste domingo da #LBFnaCultura! ✈🏆🔴⚫🐓

📸 Juca Ferreira#LevanteABolaDelas pic.twitter.com/GhP3yaYbPY

— Liga de Basquete Feminino (@LBF_Oficial) August 1, 2021
For Veracruz Campinas, wing/guard Maila scored 21 points, with five three-pointers, seven rebounds and six assists.
---
What is next?
In order to go through the finals, the team has to win two out of the three matches.
KTO Blumenau (lead series over Sampaio Basquete 1-0)
Ituano Basquete (lead series over Veracruz Campinas 1-0)
Sampaio Basquete and Vera Cruz Campinas have disputed the last two finals but both sides need to win their next two matches to progress to the final.
---
Matches:
August 7: Ituano Basquete – Veracruz Campinas
August 8: Sampaio Basquete – Blumenau
August 9: Ituano Basquete – Veracruz Campinas
August 10: Sampaio Basquete – Blumenau