KTO Blumenau book their place in the final
KTO Blumenau beat Sampaio Basquet 84-79 in overtime to reach their first ever Brazil LBF play-off final.
Atuação imponente de @vitoriamarc22 no jogo da classificação do @BlumenauBFB para as #FinaisLBF!

Quinto troféu @VoeGOLoficial de Melhor Jogadora da Partida pra ela em 2021! 🏆✈🔵👧🏼

📸 Ronald Felipe#LevanteABolaDelas#LBFnaCultura pic.twitter.com/7Kyuz2Atcl

— Liga de Basquete Feminino (@LBF_Oficial) August 8, 2021
KTO won the first match 65-63 in a hard-fought encounter but they had to come from behind in the second match to reach the final.
---
The match
Sampaio, who reached the final in 2020, led for the majority of the match and looked set to level the series at 1-1 when they took a 55-46 lead into the final quarter.
Katrina Pardee scored a two-pointer to put the hosts 12 points up with just under eight minutes to go but the visitors cut the deficit with major contributions coming from Leila Zabani, Vitoria Marcelino and Caca Martins.
All three scored as they made 11 unanswered points in just over three minutes.
They still trailed 68-65 with just over two minutes remaining, then Zabani reduced the lead to just one point.
Martins put the visitors ahead for the first time since the opening quarter with a three-point jump-shot, but with 14 seconds remaining, Jeanne Morais composed herself to score two free-throws and send the game to overtime.
Marcelino and Mariana Camargo showed their class in overtime to take the game away from Sampaio and send Blumenau to the final.
Vitoria Marcelino was given the MVP award after a tremendous performance, as she scored 22 points. She was prolific with 10 out of 12 attempts, a success rate of 83%. Below is her shot chart:
Shot chart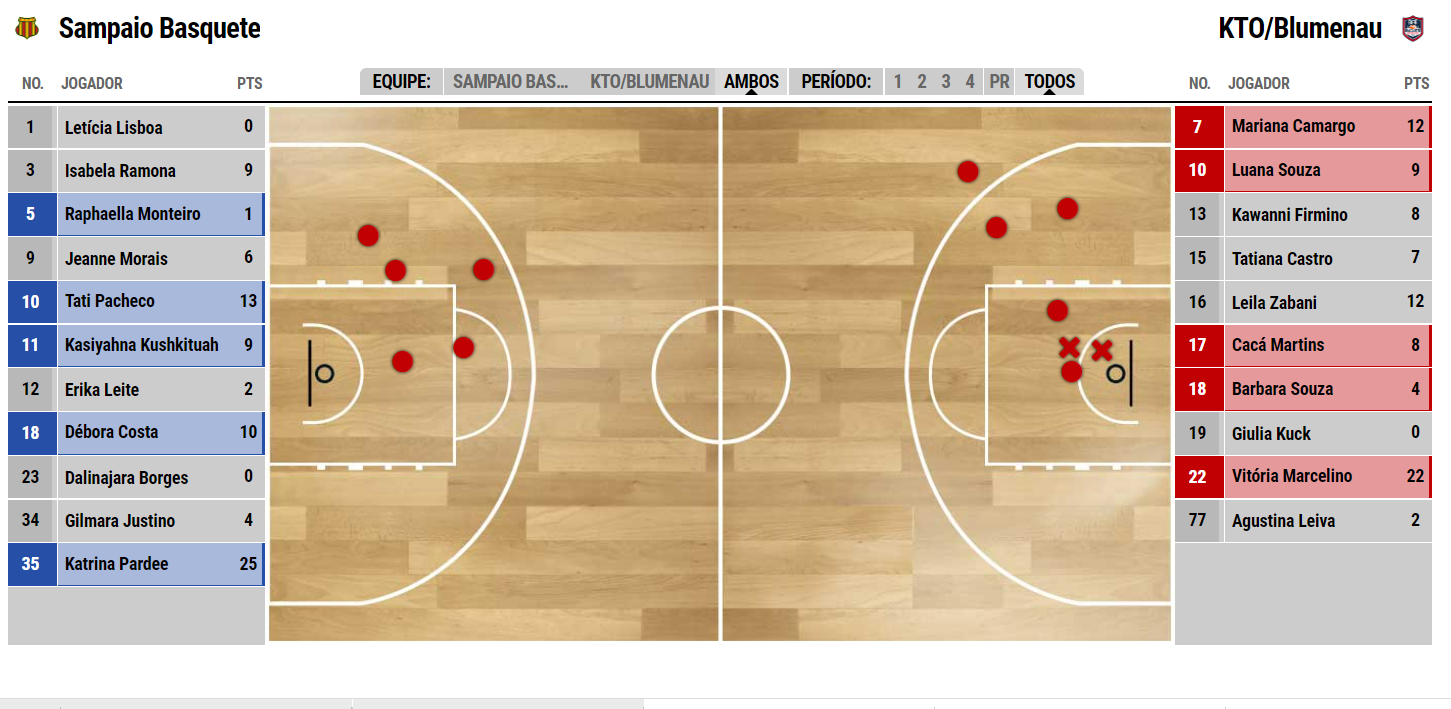 Ituano make the final
In the other semi-final series between Ituano Basquete and Vera Cruz Campinas, Ituano also caused a mini surprise, making the final for the first time after a 2-0 series win.
PLACAR FINAL!@ItuanoBasquete 7️⃣6️⃣x4️⃣9️⃣ @VeraCruzBasket

ITU vence a série 2-0 e avança às Finais

O galo se impõe em casa, fecha a série e está na decisão da LBF pela primeira vez!

📸 Juca Ferreira
#PlayoffsLBF #LevanteABolaDelas pic.twitter.com/VBt2Sx6gaZ

— Liga de Basquete Feminino (@LBF_Oficial) August 8, 2021
Ituano Basquete led the series 1-0 after beating Vera Cruz Campinas 92-78, and advanced into the final after hammering Vera Cruz 76-49 in the second match.
Alana Da Silva was named the MVP, as she scored 14 points and 8 assists. Patty Texeira made 13 points and 5 assists.
---
What is next?
The final is a best of five-match series, with the winner needing to win three games to take the title.
15/08/2021 Ituano Basquete – KTO Blumenau
17/08/2021 Ituano Basquete – KTO Blumenau
22/08/2021 KTO Blumenau – Ituano Basquete
24/08/2021 KTO Blumenau – Ituano Basquete
29/08/2021 Ituano Basquete – KTO Blumenau
A edição mais disputada da história da LBF terá uma final inédita! 🏆⚡@ItuanoBasquete e @BlumenauBFB vão decidir a partir do próximo domingo, 15, o título de melhor time do Brasil!#FinaisLBF#LevanteABolaDelas pic.twitter.com/7aUB53EbjV

— Liga de Basquete Feminino (@LBF_Oficial) August 8, 2021