In the BNXT League the second phase of the competition started this weekend. After a domestic phase in Belgium and Netherlands, the teams will now only play against teams from the other country for 10 rounds.
There are two groups, Elite Gold and Silver. The five highest placed teams of both countries play in Elite Gold. After 10 rounds, the playoffs will follow.
Oostende still undefeated
The teams from Belgium are considered to be stronger than the Dutch teams. Oostende won all their games in the domestic phase, so it is expected that they will continue their winning streak against the Dutch teams. Donar was their first opponent in this new phase. Donar finished third in the domestic phase.
In the first few minutes of Q1, Donar could kept up with Oostende, but from 6-6, Oostende placed a 9-0 run. Donar rescued the score to end the quarter 24-18.
Oostende immediately stepped up their game and, with a 10-0 run at the start of Q2, they took a 16 point lead. Donar couldn't get anywhere near the level of Oostende and the Belgian side cruised to a 98-74 victory.
Dutch player Keye van der Vuurst de Vries scored 15 points for Oostende and also delivered 7 assists.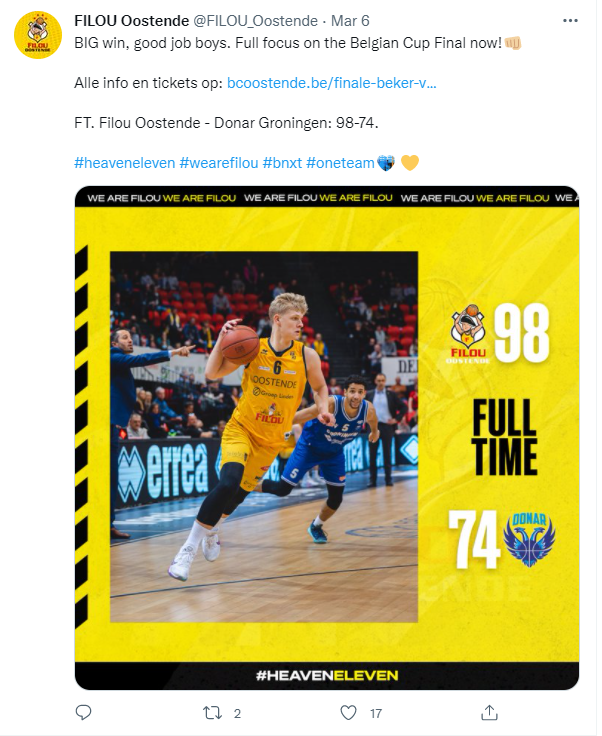 Heroes den Bosch drops points in a thriller against Belfius Mons-Hainaut
Den Bosch won the domestic phase in Netherlands, losing only 2 games. Mons-Hainaut were ranked third in Belgium, but won their last six games.
Den Bosch started well and with a 57% 3-point percentage they won the first quarter by scoring more 3's than Mons, 19-22.
In the second quarter, the 3-point percentage was even higher, 67%, however Den Bosch only attempted three. With six turnovers, Den Bosch threw away the ball too often, resulting in more field goal attempts for Mons-Hainaut. They profited, and took over the lead slowly, leading to a 43-41 halftime score.
In Q3 it was Den Bosch who attempted more shots, but with 0/6 on their 3-pointers, they were not effective. Mons-Hainaut extended their lead to 64-57.
In the final quarter, Mons-Hainaut extended their lead further and defended it successfully. A 17-9 run for Den Bosch came to late and Mons-Hainaut won the game 88-85.
The player of the game was Nzekwesi, another Dutch player playing for one of the Belgian teams. He scored 24 and had 8 rebounds.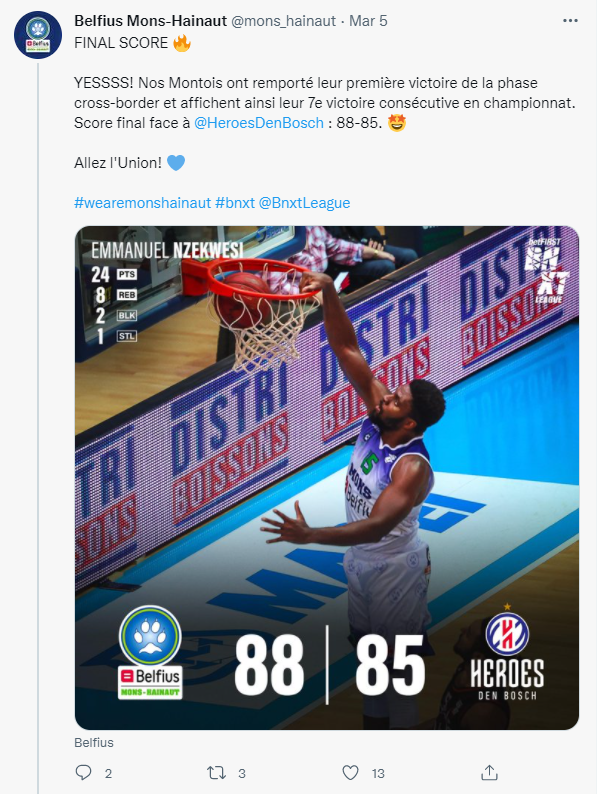 Only home wins in Belgium this round
The other Belgian teams also played at home and all won. On Friday Kangoeroes Mechelen beat ZZ Leiden 98-93. Landstede Hammers have not played well this season and they didn't stand a chance against Telenet Antwerp Giants, 102-70.
In Leuven, both fifth placed teams of the domestic phase played each other. Feyenoord stayed close to Leuven throughout the whole match, but Leuven Bears had more than enough quality and won 78-72.
Standings